Aythya marila nearctica
Status: Uncommon regular spring and fall migrant statewide. Locally common winter visitor Platte and North Platte valleys and central Missouri River Valley southward. Rare casual summer visitor statewide.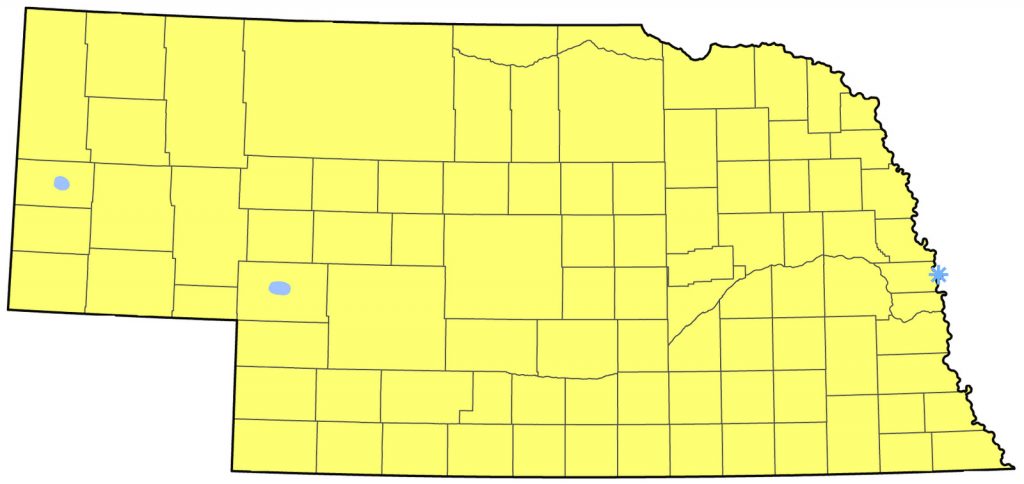 Documentation: Specimen: UNSM ZM14529, 9 Apr 1904 Waco, York Co.
Taxonomy: Two subspecies are recognized Eurasian A. m. marila and Nearctic A. m. nearctica (Gill et al 2022).
Nebraska birds are presumed nearctica.
For Nebraska records of hybrids with Ring-necked Duck, see Ring-necked Duck x Greater Scaup.
Spring: Feb 3, 3, 5 <<<>>> May 18, 19, 19
This species is an early migrant, arriving as water opens. There is an earlier date 27 Jan 2016 of eight at Lake Ogallala, Keith Co. Peak numbers occur in late Mar. There is a surprising number of reports into late May; because Greater Scaup do not breed until two years old (Baldassarre 2014), we consider these non-breeding immatures. The records are 1-2 on 21-24 May Valentine NWR, Garden Co, 26 May 2013 Douglas Co, 27 May 2016 Lake Ogallala, Keith Co, 28 May 1982 Sheridan Co, 31 May 2016 York Co, and a male photographed at Heron WPA, York Co 31 May 2016 (see Summer).
High counts: 180-190 at Gavin's Point Dam, Knox Co 31 Mar-13 Apr 2021, 60 at Keystone Lake, Keith Co 25 Mar 2000, and 50 there 23 Mar 2011.
Summer: There are only four reports Jun-Sep, all of photographed females/immatures: Lancaster Co 6-26 Jun 2018, Scotts Bluff Co 16 Jun 2019, Fillmore Co 3 Jul 2005, and at Harvard WPA, Clay Co 20 Jul 2013.
Fall: Oct 18, 18, 19<<<>>> Jan 5, 5, 5
There are earlier reports 3 Oct 1987 Washington Co, 11 Oct 2014 Lancaster Co, 11 Oct 2018 Lancaster Co (3), and 12 Oct 2000 Lake Ogallala, and a later report 13 Jan 2013 Carter Lake, Omaha. Most reports are in late Nov and early Dec. Late dates above are from areas where wintering did not occur.
High counts: 164 at Crofton, Knox Co 4 Nov 2021, 86 at Lake Ogallala 27 Dec 2006, 77 there 14 and 19 Nov 2000, 65 there 2 Jan 2011, and 54 there 16 Dec 2001.
Winter: Since about 1990 this species has become a regular winter visitor at certain locations in the Platte and North Platte river valleys. At Lake Ogallala, it was described as a "locally fairly common to common winter visitant" (Rosche 1994); as many as 74 have been recorded there in mid-winter. Less regular locations include Scottsbluff WTP, Scotts Bluff Co, where there were 2-3 on 15-19 Jan 1998, two on 12 Jan 2002, three from 30 Jan to 13 Feb 2006, and Alma SL, Harlan Co, where there were two on 18 Jan 2013, one on 27 Jan 2013, a female 29 Jan-1 Feb 2003, and four wintering 1999-2000.
Mid-winter (6 Jan-2 Feb) reports in the northeast have increased in the 2000s: 1-2 were in Burt Co 5-6 Jan 2021, 1-2 at Skyview Lake, Madison Co 13-22 Jan 2021, two in the Gavin's Point Dam area, Cedar and Knox Cos, 15-17 Jan 2022, one in Madison Co 18 Jan 2014, four below Gavin's Point Dam, Cedar Co 20 Jan 2018 and one there 22 Jan 2009, and one in Platte Co 30 Jan 2022.
High counts: 200 in Cedar Co 5 Jan 2021, 74 at Lake Ogallala winter 1999-2000, 40 there 31 Dec 2016, and 32 in Keith Co 13 Jan 1991 (Rosche 1994).
Images
Abbreviations
NWR: National Wildlife Refuge
SL: Sewage Lagoons
UNSM: University of Nebraska State Museum
WPA: Waterfowl Production Area (Federal)
WTP: Water Treatment Plant
Literature Cited
Baldassarre, G. 2014. Ducks, geese, and swans of North America. Johns Hopkins University Press, Baltimore, Maryland, USA.
Gill, F., D. Donsker, and P. Rasmussen (Eds). 2022. IOC World Bird List (v 12.2). Doi 10.14344/IOC.ML.12.2.  http://www.worldbirdnames.org/.
Rosche, R.C. 1994. Birds of the Lake McConaughy area and the North Platte River valley, Nebraska. Published by the author, Chadron, Nebraska, USA.
Recommended Citation
Silcock, W.R., and J.G. Jorgensen. 2023. Greater Scaup (Aythya marila). In Birds of Nebraska — Online. www.BirdsofNebraska.org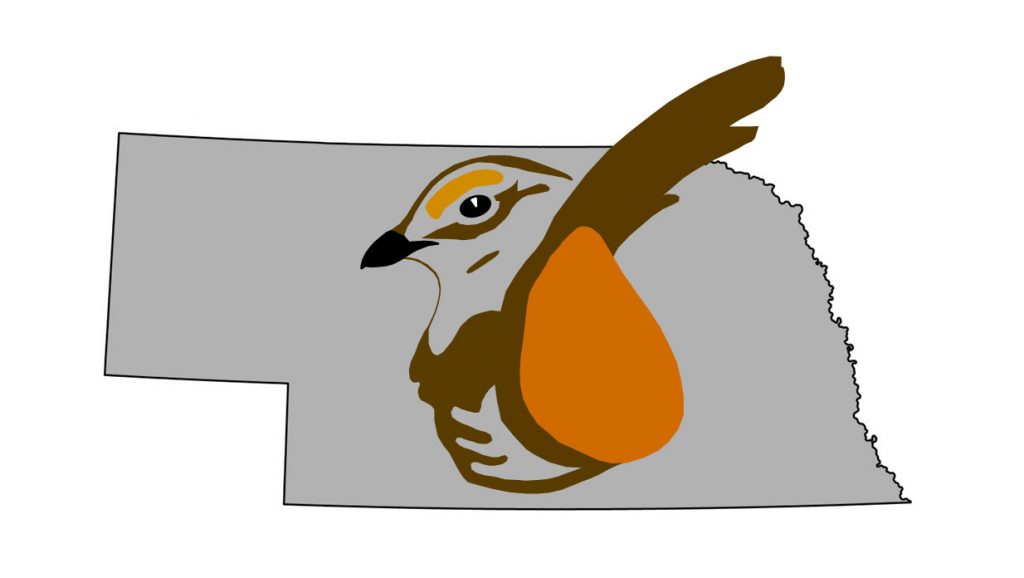 Birds of Nebraska – Online
Updated 14 Apr 2023