Anas carolinensis
Status: Common, locally abundant, regular spring and fall migrant statewide. Rare regular breeder northcentral, rare casual elsewhere. Uncommon summer visitor Rainwater Basin; rare casual elsewhere. Rare, locally uncommon, regular winter visitor west, south, east.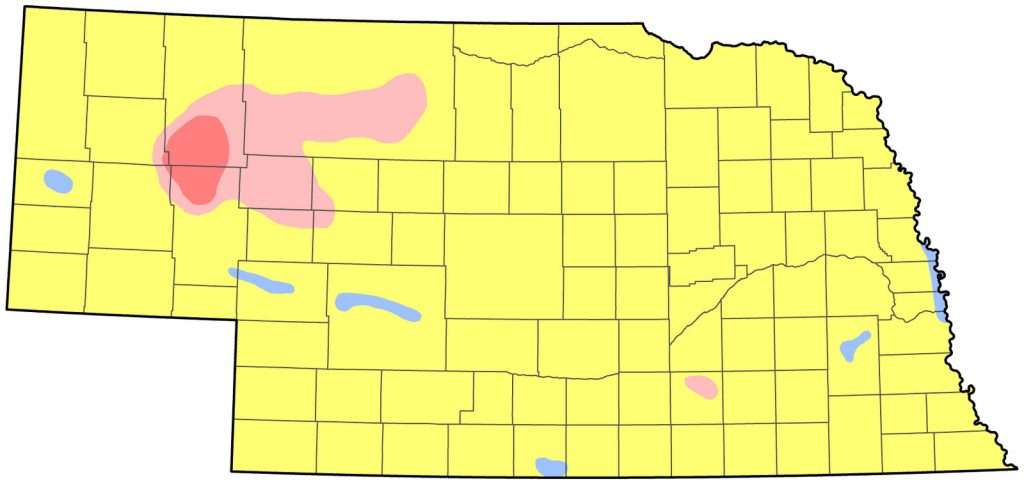 Documentation: Specimen: UNSM ZM12432, 14 Apr 1909 Cass Co.
Taxonomy: No subspecies are recognized.
This species and Eurasian Teal (A. crecca) were formerly considered conspecific, but recent genetic studies confirm separate species status (Mitchell et al 2013, Clements et al 2016, Gill and Donsker 2017).
Spring: Movement begins in mid- to late Feb and reaches its peak in late Mar in the east and mid-Apr in the Panhandle, but migrants occur into early May, straggling into Jun. A rather high late count was the 146, mostly males, still at Lake McConaughy, Keith Co 14 May 2004. Late Jan and early Feb reports may be of overwintering individuals.
High counts: 8500 at Harvard WPA, Clay Co 3 Apr 1997, 6300 at Harvard WPA and Mallard Haven WPA, Fillmore Co 9 Apr 2000, and 4221 at Lake McConaughy 14 Apr 2001.
Apart from Lake McConaughy, westerly counts are far lower than in the central and east, Panhandle counts rarely exceeding 200.
Summer: Green-winged Teal breeds in the western and northern Sandhills and rarely in the Rainwater Basin (Mollhoff 2016). An adult with young was at the southeastern extent of the Sandhills at Taylor Ranch, Hall Co between 20 May-2 Jun 1985 (Wayne Mollhoff, pers. comm.). The most recent records from the Rainwater Basin are of a nest found in Clay Co in 1985 (Harding 1986), a hen and brood at Mormon Island SRA, Hall Co 4 Jun 1986 (Wayne Mollhoff, pers. comm.), a female with a brood of seven at Harvard WPA, Clay Co 28 Jul 2007 (Jorgensen 2012), a brood of two unfledged but well-grown young with a female at Hultine WPA, Clay Co, 23 Aug 2008, and a hen and brood at the Ducks Unlimited Verona Complex, Clay Co 26 Jul 2015. Multiple birds were in the eastern Rainwater Basin in 2001, with 16 on 15 Jun and "several" on 1 Jul, and in 2008, when 35 were present 22 Jun. "Quite a few pairs" on Perkins Co playas 26 May 2010 raised the possibility of breeding there.
There are few breeding season (Jun-Jul) reports away from the Sandhills and Rainwater Basin; most such reports are more likely to be of molt migrants rather than breeding birds (see Fall).
Fall: Detectable movement begins as early as mid-Jun; males leave females while the latter are incubating and generally move southward to molt (Palmer 1976). The 23, mostly males, at a flooded field in Box Butte Co 29 Jun 2015 may have been such birds.
True migration begins in mid- to late Aug and peak movement is during late Oct; a few linger into Dec or early Jan. Late high counts were 116 at Lake McConaughy 29 Dec 2007 and 294 there 31 Dec 2011.
High counts: 15,100 at Lake McConaughy 31 Oct 2006, 9040 there 14 Oct 2000, 4000-5000 there 17 Sep 1994, and 4400+ there 1 Nov 1998.
Winter: Green-winged Teal are among the most likely dabbling ducks to overwinter in Nebraska; preferred sites are mostly in the south. Rosche (1994) considered Green-winged Teal a "locally uncommon to very common" winter visitant at Lake McConaughy. It is regularly reported on CBCs, including high statewide counts of 404 in 2011-2012 and 400 in 1966-1967.
High counts: 268 at Lake Ogallala, Keith Co 29 Jan 2000, 245 at Sutherland Reservoir, Lincoln Co 3 Jan 2022, and 130 in southwest Sioux Co 3 Jan 1999.
Images
Abbreviations
SRA: State Recreation Area
UNSM: University of Nebraska State Museum
WPA: Waterfowl Production Area (Federal)
Literature Cited
Clements, J. F., T. S. Schulenberg, M. J. Iliff, D. Roberson, T. A. Fredericks, B. L. Sullivan, and C. L. Wood. 2016. The eBird/Clements checklist of birds of the world: v2016, accessed 30 January 2018.
Gill, F., and D. Donsker (Eds). 2017. IOC World Bird List (v 7.3), accessed 30 January 2018.
Harding, R.G. 1986. Waterfowl nesting preferences and productivity in the Rainwater Basin, Nebraska. Master's thesis, Kearney State College, Kearney, Nebraska, USA.
Jorgensen, J.G. 2012. Birds of the Rainwater Basin, Nebraska. Nebraska Game and Parks Commission, Lincoln, Nebraska, USA.
Mitchell, K.J., J.R. Wood, R.P. Scofield, B. Llamas, and A. Cooper. 2013. Molecular Phylogenetics and Evolution. https://doi.org/10.1016/j.ympev.2013.08.017.
Mollhoff, W.J. 2016. The Second Nebraska Breeding Bird Atlas. Bull. Univ. Nebraska State Museum Vol 29. University of Nebraska State Museum, Lincoln, Nebraska, USA.
Palmer, R.S., ed. 1976. Handbook of North American birds. Vol. 2. Waterfowl (Parts 1 and 2). Yale University Press, New Haven, Connecticut, USA.
Rosche, R.C. 1994. Birds of the Lake McConaughy area and the North Platte River valley, Nebraska. Published by the author, Chadron, Nebraska, USA.
Recommended Citation
Silcock, W.R., and J.G. Jorgensen. 2022. Green-winged Teal (Anas carolinensis). In Birds of Nebraska — Online. www.BirdsofNebraska.org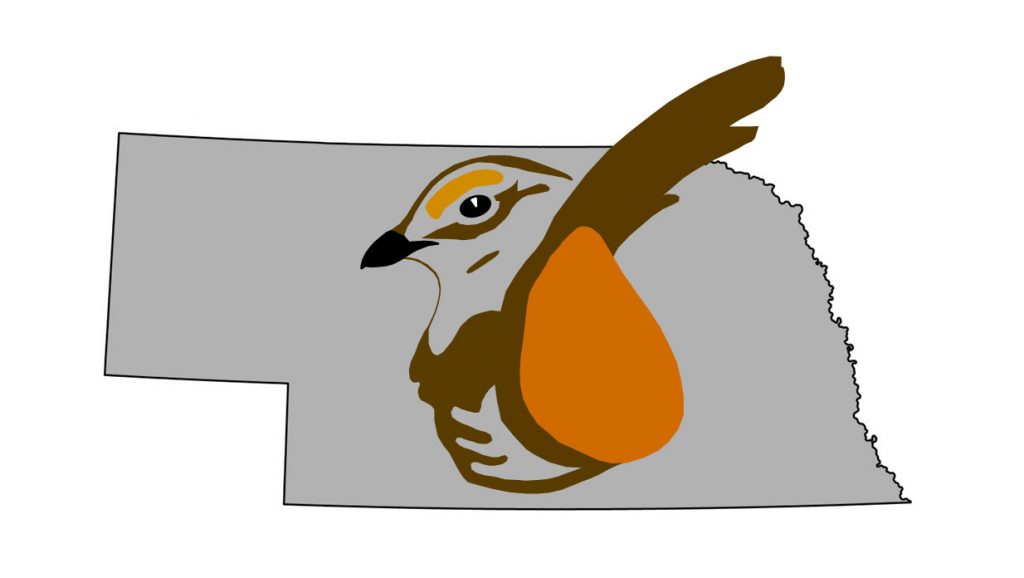 Birds of Nebraska – Online
Updated 22 Mar 2022