Acanthis hornemanni
Status: Rare casual winter visitor statewide.
Documentation: Photograph: 5 Feb 1982 Ames, Dodge Co (Bray et al 1986).
Taxonomy: Two subspecies are generally recognized (Pyle 1997, Gill and Donsker 2017, Clements et al 2016, Knox and Lowther 2020), exilipes, breeding in the tundra of northern Eurasia and northern North America, and hornemanni, breeding Ellesmere Island, Baffin Island, and northern Greenland; wintering to northern USA and British Isles (Clements et al 2016).
A recent proposal to AOU to lump the redpolls, including Common and Hoary Redpolls has not yet been voted upon (AOU 2016), but a recent genomic-based paper considers all redpoll forms to be a single species (Funk et al 2021). See Taxonomy discussion in the Common Redpoll species account.
There is no evidence regarding which Hoary Redpoll subspecies occurs in Nebraska.
Winter: There are 12 reports of this species for Nebraska. Only one has been accepted by NOURC, a single bird with Common Redpolls in Sioux Co 3 Dec 2022 (Steve Mlodinow, eBird.org; photo in this account). However, only three other records, all in 2013, have been submitted to NOURC, none of which were accepted. Thus, at the NOURC level, there is a single accepted record, 3 Dec 2022, first (and only) NOURC-examined record for the state. See Comments, below.
Prior to establishment of NOURC however, Bray et al (1986) accepted four of five records that occurred prior to 1986, including the record cited above under Documentation:
          Jan 1970 Custer Co (Cortelyou 1970). "I couldn't believe the whitish look of a few with the Commons. They had a striking white rump and lack of streakedness there".
         5 Feb 1982 Ames (cited above; Manning 1982; Bray et al 1986: "This photo is considered diagnostic as it shows an immaculate rump and a rather short bill".
         13-17 Feb 1978 Douglas Co (Bray et al 1986 written description in possession of authors; Williams 1978).
         27 Feb-15 Mar 1972 Offutt Base Lake, Sarpy Co. "The Hoary Redpoll was found at Offutt Base Lake by Terry Maxwell and was observed over a period of days by others. It was very white, with a white rump and a distinct lack of streaking on the sides. It could be picked out of the flock of Common Redpolls easily without binoculars" (Cortelyou 1972, Williams 1972). It should be noted this record was submitted to eBird by Graham Chisholm and accepted by the eBird reviewer.
After 1986 and until 2013 there were only two records, neither submitted to NOURC, but one of which we consider acceptably documented:
          17 Jan 1996 Dawes Co (Grzybowski 1996). "A Hoary Redpoll was documented in Dawes, NE Jan. 17 (RCR)."
The three reports in 2013 not accepted by NOURC (Brogie 2014) are 2 Jan 2013 male Lancaster Co; 18 Jan 2013 photograph Lincoln Co, 18 Mar 2013 photograph Burwell, Garfield Co.
The only other reports are of one in Gering, Scotts Bluff Co on the extraordinary date 20 May 1968, described as having an "unstreaked white rump," and not with any other redpolls (Young 1968), one reported without details 25-26 Feb 1978 by Daryl Giblin in Lancaster Co (Williams 1978; Cortelyou 1978), and one "apparently observed" in Dixon Co 29 Jan-29 Feb 1996 (Grzybowski 1996).
Nebraska is at the southern limit of occurrence of Hoary Redpoll; South Dakota, Iowa, and Minnesota have numerous records (eBird.org, accessed Apr 2022) but there are none for Kansas (Thompson et al 2011; eBird.org accessed Apr 2022). Wyoming has 15 records (Faulkner 2010, eBird.org accessed Apr 2022) and Colorado's eight records were all part of the major 2012-2013 winter invasion (CBRC, eBird.org accessed Apr 2022).
Comments: The three 2013 reports submitted to NOURC were treated conservatively by the Committee and none were accepted. However, we believe that these records, all accompanied by a photo, were suggestive of Hoary Redpolls, or at least represent the pale end of a phenotypic continuum of a single redpoll species that rarely occurs as far south as Nebraska. Perhaps significantly, during the same winter, there were six accepted records for Colorado, that state's first accepted records (CBRC). Photos of the Nebraska birds were submitted to at least one observer from a northern state, who agreed that, if seen in his area, he would identify them as Hoary Redpolls. It is not unusual for Records Committees in states where Hoary Redpoll is unexpected to take a very conservative approach to Hoary Redpoll submissions. Applying the David Sibley Character Index for redpolls to the photos submitted in 2013, all three were found to be more likely Hoary Redpolls than not (Sibley 2008). As stated by Sibley (14 Jan 2008): "There's nothing wrong with excluding some intermediate birds from being called Hoaries, as long as birders understand that some Hoaries are being excluded. This is conservative. But most people give redpolls very uneven treatment by demanding that Hoaries meet high standards, and then calling everything else Common."
Images
Abbreviations
CBRC: Colorado Bird Records Committee
NOURC: Nebraska Ornithologists' Union Records Committee
Literature Cited
American Ornithologists' Union [AOU]. 2016. AOU Classification Committee – North and Middle America Proposal Set 2016-A 10 Nov 2015.
Bray, T.E., B.K. Padelford, and W.R. Silcock. 1986. The birds of Nebraska: A critically evaluated list. Published by the authors, Bellevue, Nebraska, USA.
Brogie, M.A. 2014. 2013 (25th) Report of the NOU Records Committee. NBR 82: 131-146.
Clements, J. F., T. S. Schulenberg, M. J. Iliff, D. Roberson, T. A. Fredericks, B. L. Sullivan, and C. L. Wood. 2016. The eBird/Clements checklist of birds of the world: v2016, accessed 30 January 2018.
Cortelyou, R.G. 1970. 1970 (Forty-fifth) Spring Migration and Occurrence Report. NBR 38: 74-87.
Cortelyou, R.G. 1972. 1972 (Forty-seventh) Spring Migration and Occurrence Report. NBR 40: 72-86.
Cortelyou, R.G. 1978. 1978 (Fifty-third) Spring migration and Occurrence Report. NBR 46: 66-85.
Faulkner, D.W. 2010. Birds of Wyoming. Roberts and Company, Greenwood Village, Colorado.
Funk, E.R., N.A. Mason, S. Pálsson, T. Albrecht, J.A. Johnson, and S.A. Taylor. A supergene underlies linked variation in color and morphology in a Holarctic songbird. Nature Communications, 2021; 12 (1) DOI: 10.1038/s41467-021-27173-z.
Gill, F., and D. Donsker (Eds). 2017. IOC World Bird List (v 7.3), accessed 30 January 2018.
Grzybowski, J.A. 1996. Southern Great Plains Region. Field Notes 50: 296-300.
Knox, A.G. and P.E. Lowther. 2020. Hoary Redpoll (Acanthis hornemanni), version 1.0. In Birds of the World (S. M. Billerman, Editor). Cornell Lab of Ornithology, Ithaca, NY, USA. https://doi.org/10.2173/bow.hoared.01.
Manning, R. 1982. A Hoary Redpoll in Dodge County. NBR 50: 37.
Pyle, P. 1997. Identification Guide to North American Birds. Part I, Columbidae to Ploceidae. Slate Creek Press, Bolinas, California, USA.
Sibley, D. 2008. A Character Index for Redpoll identification (blog post). The Sibley Guides (blog), accessed 19 Jun 2018.
Thompson, M.C., C.A. Ely, B. Gress, C. Otte, S.T. Patti, D. Seibel, and E.A. Young. 2011. Birds of Kansas. University Press of Kansas, Lawrence, Kansas, USA.
Williams, F. 1972. Southern Great Plains Region. American Birds 26: 624-626.
Williams, F. 1978. Southern Great Plains Region. American Birds 32: 223-227.
Young, S.R. 1968. Hoary Redpoll. NBR 36: 77-78.
Recommended Citation
Silcock, W.R., and J.G. Jorgensen. 2022. Hoary Redpoll (Acanthis hornemanni). In Birds of Nebraska — Online. www.BirdsofNebraska.org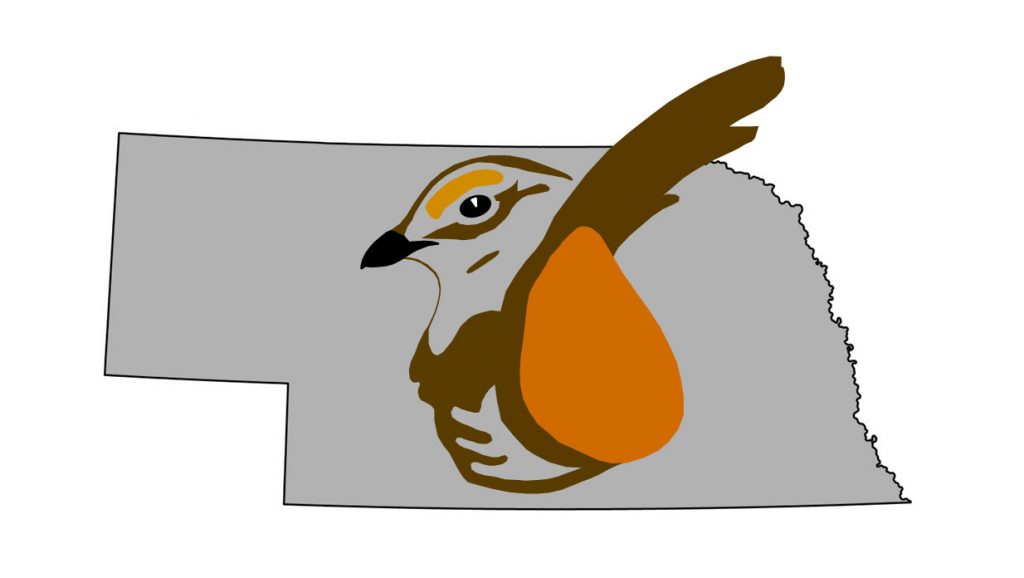 Birds of Nebraska – Online
Updated 3 Apr 2022