Passerina cyanea
Status: Common regular spring and fall migrant east and east-central, uncommon west-central, rare west. Common regular breeder east and east-central, rare west-central and west.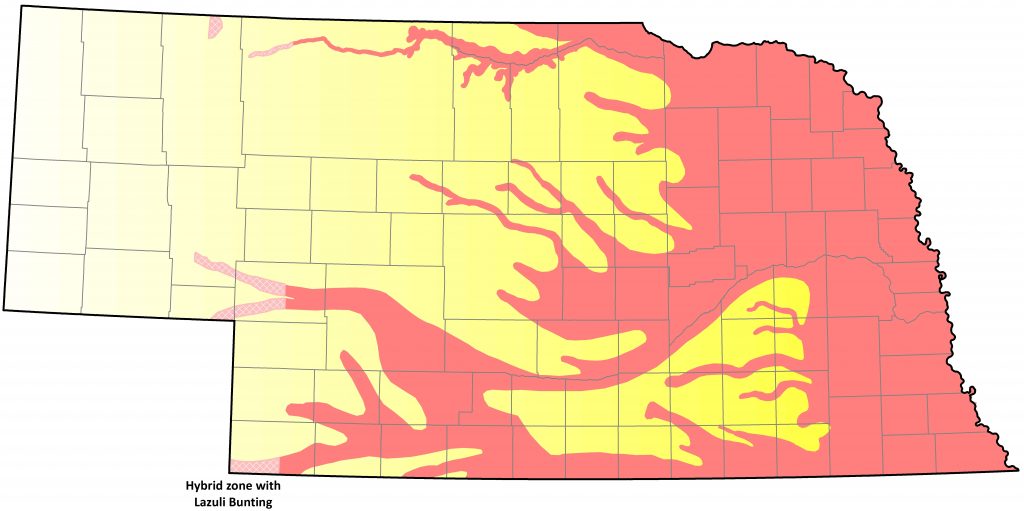 Documentation: Specimen: UNSM ZM7099, 15 Aug 1899 Lancaster Co.
Taxonomy: No subspecies are recognized (Pyle 1997).
This species hybridizes with Lazuli Bunting; see the Lazuli x Indigo Bunting (hybrid) species account.
Changes Since 2000: The increasing number of reports in the Panhandle, especially in Scotts Bluff Co, suggests continuing westward movement of the range of this species; as pointed out by Carling and Zuckerberg (2011), the hybrid zone between this species and Lazuli Bunting is shifting westward also.
Spring: Apr 26, 26, 26 <<<>>> summer
Earlier dates are 16-19 Apr 2009 photo Ogallala, Keith Co, 17 Apr 2016 Cass Co, 19 Apr 2012 Lancaster Co, 21 Apr 2013 Otoe Co, and 23 Apr 2022 Douglas Co.
Migrants arrive in late Apr.
High counts: 45 in Otoe Co 16 May 2003, 40 at Fontenelle Forest, Sarpy Co 10 May 2019, 35 there 3 May 2012, and 35 there 21 May 2017.
Summer: Around 1900, this species apparently bred only in the east, westward to the Grand Island, Hall Co area (Bruner et al 1904). As recently as 1958 this was still the case (Rapp et al 1958), although a specimen, UNSM ZM10413, an apparent phenotypically pure male, was taken at Glen, on the White River in Sioux Co, as long ago as 18 Jul 1910. This record, and the statement by Bruner et al (1904) that Indigo Bunting was present in the Niobrara Valley Preserve in 1900 suggests a corridor for birds to move west; Indigo Bunting has indeed spread westward since the 1950s along major river valleys, most notably those of the Niobrara and Platte; it is these two areas where contact with Lazuli Bunting has resulted in the most obvious hybridization (Short 1961).
Highest breeding densities are in the Missouri River Valley; the four BBS routes with highest numbers are in counties adjacent to the Missouri River. Away from the Missouri River Valley, Indigo Bunting is most numerous in the Niobrara River Valley. In one estimate, it outnumbered Lazuli Bunting by 40:1 as far west as eastern Cherry Co (Mossman and Brogie 1983). Although in the late 1950s it was not found west of Valentine in Cherry Co (Short 1961), and Rosche (1982) considered it apparently occured in small numbers in the Niobrara River Valley further west (Rosche 1982), since 2011 there have been several reports west to NNF McKelvie, Cherry Co and the 16F Road crossing of the Niobrara River.
According to Johnsgard (1980), Indigo Buntings breed throughout the Platte and South Platte River Valleys to Colorado; Indigo Buntings are common south of the Platte River Valley. Breeding west of Keith Co along the North Platte River Valley is limited; most males in the Keith Co area are hybrids with white abdomens (Rosche 1994; Johnsgard 1990), although Brown et al (1996) recorded only four birds with hybrid characteristics among 28 Indigo Buntings netted at Lake Ogallala. Rosche (1994) noted that Indigo Bunting had increased as a breeding species in the Keith-Garden Cos area around Lake McConaughy during the 1980s; it is possible that the incidence of hybrids in Keith Co has been reduced as numbers of Indigo Bunting have increased and the hybrid zone has shifted westward (Carling and Zuckerberg 2011). There are recent reports from Crescent Lake NWR, Garden Co, although none later than 9 Jun, suggesting that only migrants have occurred there.
There are numerous reports from the Scotts Bluff Co area, beginning in 1981, but most since 2014; recent reports suggest nesting (or at least hybridization) occurs in the Wildcat Hills and Scotts Bluff NM areas, from which there are four and eight reports respectively as of Aug 2019, including seven at Wildcat Hills 12 Jun 2014.
In the northwest, Rosche (1982) noted that it occurs in about the same numbers as Lazuli Bunting on the Pine Ridge, being most common in the Chadron, Dawes Co section of the White River drainage. Rosche (1982) "strongly suspects" however that there are "few, if any, pure Indigo Buntings present during the nesting season,"; most territorial males show some white on the abdomen.
Breeding phenology:
Nest building: 16 May-18 Jun
Eggs: 10 Jun- 27 Jul (Mollhoff 2022)
Nestlings: 18 Jun-15 Jul
Fledglings: 13 Jul-7 Sep
High counts: 23 at Indian Cave SP, Richardson Co 12 Jul 2020.
Fall: summer <<<>>> Oct 9, 10, 11
A later date is 16 Oct 2012 immature male Dixon Co.
Amazingly, an immature remained at a Dixon Co feeder 19 Dec 1998-2 Jan 1999; NOURC concluded that other Passerina buntings could not be eliminated from consideration, however (Jorgensen 2001).
Away from the Missouri River Valley late dates include 23 Sep 1909 Lancaster Co (specimen UNSM ZM10655), 25 Sep Dawes Co (Rosche 1982), 27 Sep 2015 one banded at Chadron SP, Dawes Co, 30 Sep 2001 immature male NNF Bessey, Thomas Co, 2 Oct 1992 Dawes Co, 5 Oct 2014 Jefferson Co, 6 Oct 2014 Antelope Co, 7 Oct 2005 Gage Co, and 9 Oct 2005 Furnas Co.
High counts: 14 in Lancaster Co 1 Aug 2021, 13 at DeSoto NWR, Washington Co 7 Aug 2021, and 12 in SArpy Co 26 Sep 2021.
Images
Abbreviations
BBS: Breeding Bird Survey
NNF: Nebraska National Forest
NM: National Monument
NOURC: Nebraska Ornithologists' Union Records Committee
NWR: National Wildlife Refuge
RA: Recreation Area
SP: State Park
SRA: State Recreation Area
UNSM: University of Nebraska State Museum
Literature Cited
Brown, C.R., M.B. Brown, P.A. Johnsgard, J. Kren, and W.C. Scharf. 1996. Birds of the Cedar Point Biological Station area, Keith and Garden Counties, Nebraska: Seasonal occurrence and breeding data. Transactions of the Nebraska Academy of Sciences 23: 91-108.
Bruner, L., R.H. Wolcott, and M.H. Swenk. 1904. A preliminary review of the birds of Nebraska, with synopses. Klopp and Bartlett, Omaha, Nebraska, USA.
Carling, M.D., and B. Zuckerberg. 2011. Spatio-temporal changes in the genetic structure of the Passerina bunting hybrid zone. Molecular Ecology 20: 1166-1175.
Johnsgard, P. A. 1980. A preliminary list of the birds of Nebraska and adjacent Great Plains states. Published by the author, University of Nebraska, Lincoln, USA.
Johnsgard, P.A. 1990. Additional observations of the birds of the Lake McConaughy region. NBR 58: 52-54.
Jorgensen, J.G. 2001. 1999 (Eleventh) Report of the NOU Records Committee. NBR 69: 85-91.
Mollhoff, W.J. 2022. Nest records of Nebraska birds. Nebraska Ornithologists' Union Occasional Paper Number 9.
Mossman, M.J., and M.A. Brogie. 1983. Breeding status of selected bird species on the Niobrara Valley Preserve, Nebraska. NBR 51: 52-62.
Pyle, P. 1997. Identification Guide to North American Birds. Part I, Columbidae to Ploceidae. Slate Creek Press, Bolinas, California, USA.
Rapp, W.F. Jr., J.L.C. Rapp, H.E. Baumgarten, and R.A. Moser. 1958. Revised checklist of Nebraska birds. Occasional Papers 5, Nebraska Ornithologists' Union, Crete, Nebraska, USA.
Rosche, R.C. 1982. Birds of northwestern Nebraska and southwestern South Dakota, an annotated checklist. Cottonwood Press, Crawford, Nebraska, USA.
Rosche, R.C. 1994. Birds of the Lake McConaughy area and the North Platte River valley, Nebraska. Published by the author, Chadron, Nebraska, USA.
Short, L.L., Jr. 1961. Notes on bird distribution in the central Plains. NBR 29: 2-22.
Recommended Citation
Silcock, W.R., and J.G. Jorgensen. 2022. Indigo Bunting (Passerina cyanea). In Birds of Nebraska — Online. www.BirdsofNebraska.org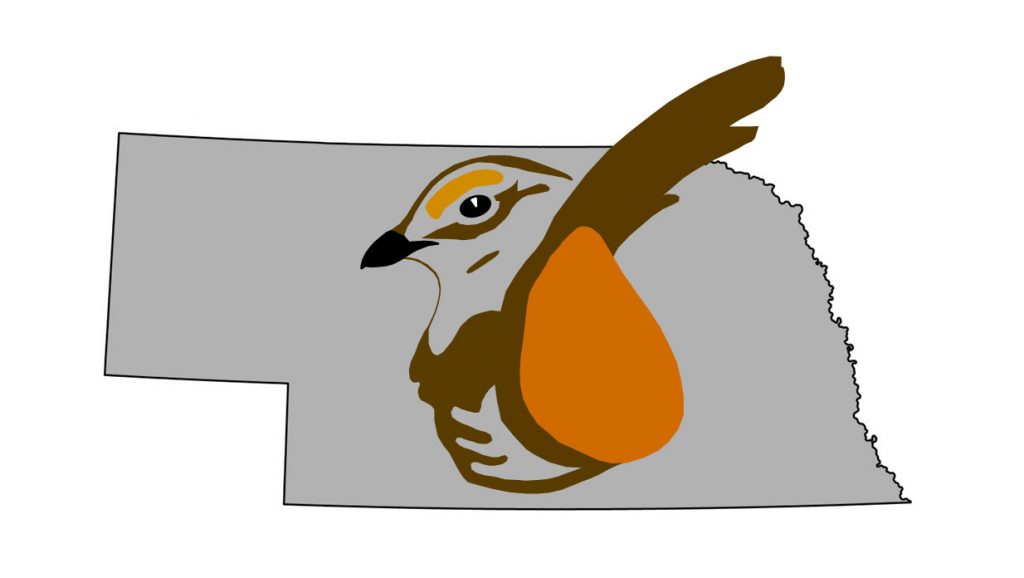 Birds of Nebraska – Online
Updated 2 Jul 2022