Anas diazi
Status:  No accepted records.
Taxonomy:
No subspecies are recognized.
See discussion under Mottled Duck. Whether Mexican Duck is a valid species is a matter of debate; it is listed as a species by Gill and Donsker (2017), citing work by McCracken et al (2001); we follow this treatment here, but see below.
Mexican Duck (as A. diazi) is considered by some authors a subspecies of Mallard, A. platyrhynchos (for example, AOU 1998). Sibley and Monroe (1990) noted that Mallard and Mexican Duck hybridize extensively and that Mallard characters are swamping those of Mexican Duck, although more recent opinion suggests otherwise (Webster 2006, Baldassarre 2014). Very few Mallards occur in the breeding season or in winter within the breeding range of Mexican Duck (Baldassare 2014). Earlier, Bellrose (1976) had cited the observation of Bevill (1970) that apparent assortative mating was occurring in a population of Mexican Ducks near Rodeo, New Mexico. The AOU denied a proposal to elevate Mexican Duck to species status; discussion can be found HERE.
Comments:  There are two reports (Bray et al 1986, Silcock et al 1986). A specimen referred to as Mexican Duck was collected 17 Oct 1921 in Cherry Co (Bent 1923). This is a female #973 in the Field Museum of Natural History, Chicago, but is now considered likely a hybrid between Mallard and American Black Duck (David Willard, personal communication). The second report is of an adult male shot in Rock Co 19 Oct 1969 (Menzel 1970). Although its identity as a Mexican Duck was confirmed by Paul Johnsgard and the bird showed no evidence of captivity, the possibility of its being an escaped bird could not be eliminated (Menzel 1970). Menzel (1970) noted that at that time Mexican Ducks were kept in captivity in Hall Co and that escapes occurred occasionally. A dark bird paired with a Mallard 20 Jun 1993 Sioux Co (Grzybowski 1993), may have been a Mottled Duck or Mexican Duck; there are a surprising 12 records for Colorado, six of these 4 Mar-22 Sep in Weld Co, adjacent to Nebraska (CBRC 2017). There are no records for Kansas (Thompson et al 2011).
Literature Cited
American Ornithologists' Union [AOU]. 1983. The AOU Check-list of North American birds, 6th ed. Allen Press, Lawrence, Kansas, USA.
Baldassarre, G. 2014. Ducks, geese, and swans of North America. Johns Hopkins University Press, Baltimore, Maryland, USA.
Bellrose, F.C. 1976. Ducks, Geese & Swans of North America.  Stackpole Books, Harrisburg, Pennsylviania, USA.
Bent, A.C. 1923. Life histories of North American wild fowl. Bulletin of the United States National Museum 126.  Dover Publications Reprint 1962, New York, New York, USA.
Bevill, W.V., Jr. 1970. Effects of supplemental stocking and habitat development on abundance of Mexican Ducks. Master's thesis, New Mexico State University, Las Cruces, New Mexico, USA.
Bray, T.E., B.K. Padelford, and W.R. Silcock. 1986. The birds of Nebraska: A critically evaluated list.  Published by the authors, Bellevue, Nebraska, USA.
Colorado Bird Records Committee [CBRC].  2017.  Mottled Duck records.  Colorado Bird Records Committee database, accessed November 2017.
Menzel, K.E. 1970. Mexican Duck. NBR 38: 89-90.
Sibley, C.G., and B.L. Monroe, Jr. 1990. Distribution and taxonomy of birds of the world. Yale University Press, New Haven, Connecticut, USA.
Silcock, W.R., T.E. Bray, and B.K. Padelford. 1986. Mexican Duck in Nebraska. NBR 54: 40-41.
Thompson, M.C., C.A. Ely, B. Gress, C. Otte, S.T. Patti, D. Seibel, and E.A. Young. 2011. Birds of Kansas.  University Press of Kansas, Lawrence, Kansas, USA.
Webster. R. 2006. The Status of Mottled Duck (Anas fulvigula) in Arizona. Arizona Birds Online 2: 6-9.
Recommended Citation
Silcock, W.R., and J.G. Jorgensen.  2018.  Mexican Duck (Anas diazi), Version 1.0. In Birds of Nebraska — Online. www.BirdsofNebraska.org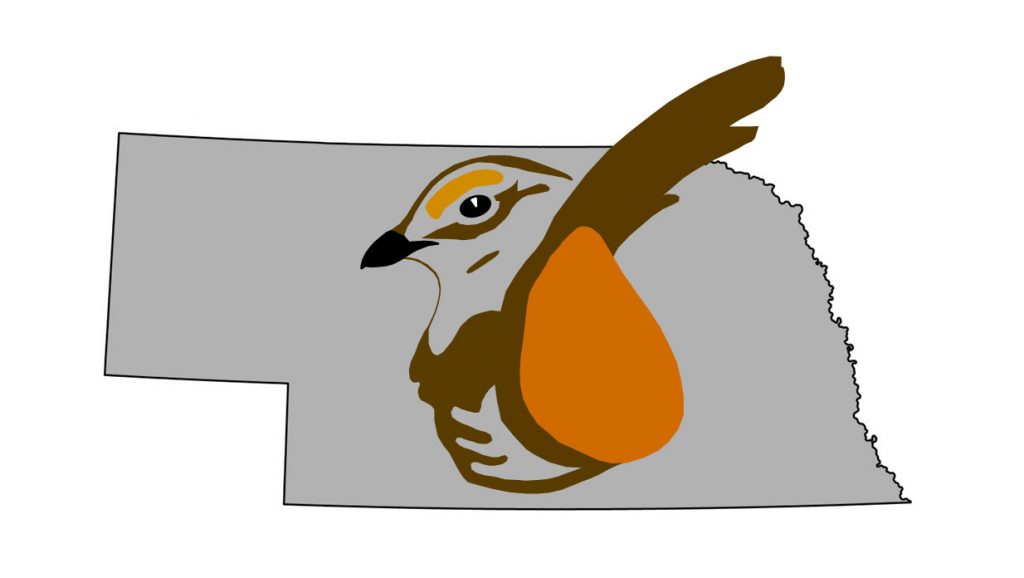 Birds of Nebraska – Online