Nannopterum brasilianum mexicanum
Status: Rare regular summer visitor east and central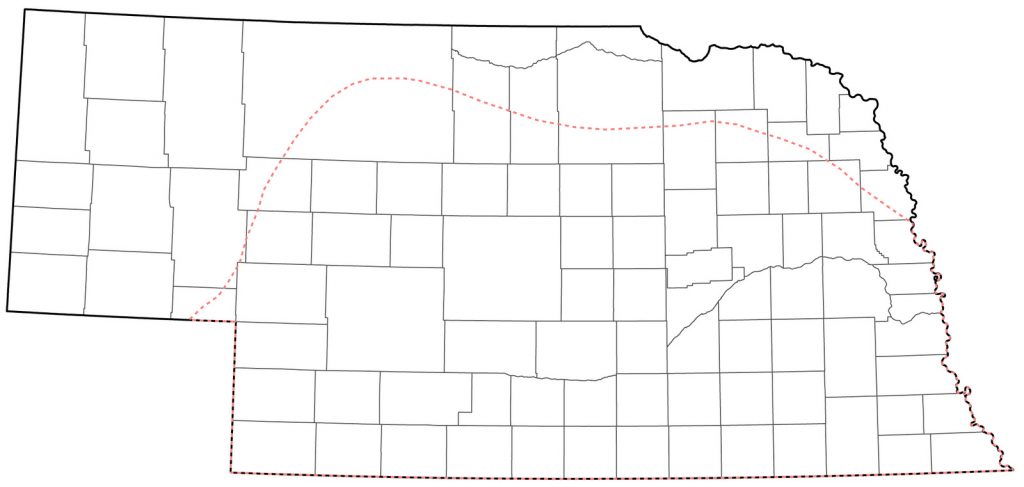 Documentation: Specimen: UNSM ZM14226, 2 Oct 1982 Sutherland Reservoir (Wright 1983).
Taxonomy: Two subspecies have been recognized (Gill et al 2021), mexicanum in the extreme southern United States, Caribbean, and Nicaragua, and brasilianum from Costa Rica south throughout South America.
The AOS (Chesser et al 2021) split New World Double-crested, Neotropic, and Flightless cormorants from Phalacrocorax to the resurrected genus Nannopterum, which required a specific epithet change from brasilianus to brasilianum and subspecies change from mexicanus to mexicanum.
Nebraska birds are presumed mexicanum.
A hybrid with Double-crested Cormorant is discussed in the Double-crested x Neotropic Cormorant (hybrid) species account.
Changes since 2001: Of 34 accepted records, 29 are from 2000-2023, indicative of increasing drift northward in recent years. Breeding first occurred in Kansas in 2007 (Thompson et al 2011), but as yet has not been noted in Nebraska.
Summer: Mar 31, Apr 1, 4 <<<>>> Sep 23, 23, Oct 2
This species is now essentially annual in occurrence. Earlier dates are 12 Mar 2020 Pawnee Lake, Lancaster Co, 1-2 on 12 Mar-16 Apr 2012 Branched Oak Lake, Lancaster Co (Brogie 2013), 20 Mar 2020 Wagon Train RA, Lancaster Co, 21 Mar-25 Aug 2017 Branched Oak Lake (Silcock 2017a, 2017b, 2017c) and 29 Mar 2018 at Branched Oak Lake.
A later date is 26 Nov 2010 Branched Oak Lake (Silcock 2010).
Additional early sightings without details are of one in flight with Double-crested Cormorants in Buffalo Co 16 Mar 2012, and one at Branched Oak Lake 26 Mar 1998 (Brogie 1999).
Images
Abbreviations
UNSM: University of Nebraska State Museum
Literature Cited
Brogie, M.A. 1999. 1998 (Tenth) Report of the NOU Records Committee. NBR 67: 141-152.
Brogie, M.A. 2013. 2012 (24th) Report of the NOU Records Committee. NBR: 81: 120-130.
Chesser, R.T., S.M. Billerman, K. Burns, C. Cicero, J.L. Dunn, B.E. Hernández-Baños, A.W. Kratter, I.J. Lovette, N.A. Mason, P.C. Rasmussen, J.V. Remsen, Jr., D.F. Stotz, and K. Winker. 2021. Sixty-second Supplement to the American Ornithological Society's Check-list of North American Birds. Ornithology 138, Issue 3 https://doi.org/10.1093/ornithology/ukab037.
Gill, F., D .Donsker, and P. Rasmussen (Eds). 2021. IOC World Bird List (v 11.2). Doi 10.14344/IOC.ML.11.2. http://www.worldbirdnames.org/.
Silcock, W.R. 2010. Fall Field Report, August-November 2010. NBR 78: 130-150.
Silcock, W.R. 2017a. Spring Field report, March-May 2017. NBR 85: 54-83.
Silcock, W.R. 2017b. Summer Field Report, June-July 2017. NBR 85: 94-120.
Silcock, W.R. 2017c. Fall Field Report, August-November 2017. NBR 85: 146-178.
Thompson, M.C., C.A. Ely, B. Gress, C. Otte, S.T. Patti, D. Seibel, and E.A. Young. 2011. Birds of Kansas. University Press of Kansas, Lawrence, Kansas, USA.
Wright, R. 1983. Olivaceus Cormorant. NBR 51: 18.
Recommended Citation
Silcock, W.R., and J.G. Jorgensen. 2023. Neotropic Cormorant (Nannopterum brasilianum mexicanum). In Birds of Nebraska — Online. www.BirdsofNebraska.org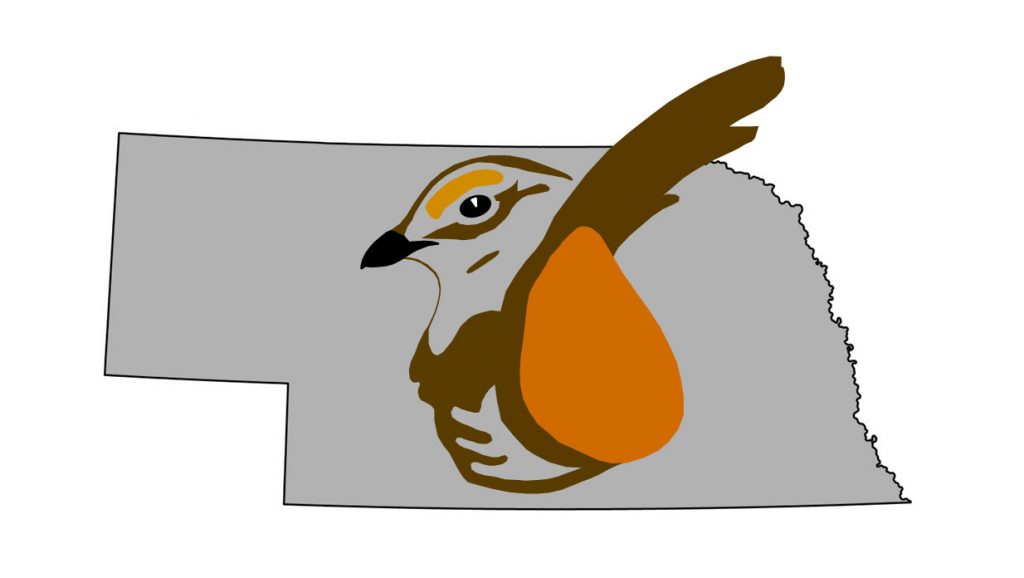 Birds of Nebraska – Online
Updated 20 Oct 2023