Anas acuta
Status: Common, locally abundant, regular spring and fall migrant statewide. Uncommon, locally common, regular breeder statewide. Locally uncommon regular winter visitor statewide.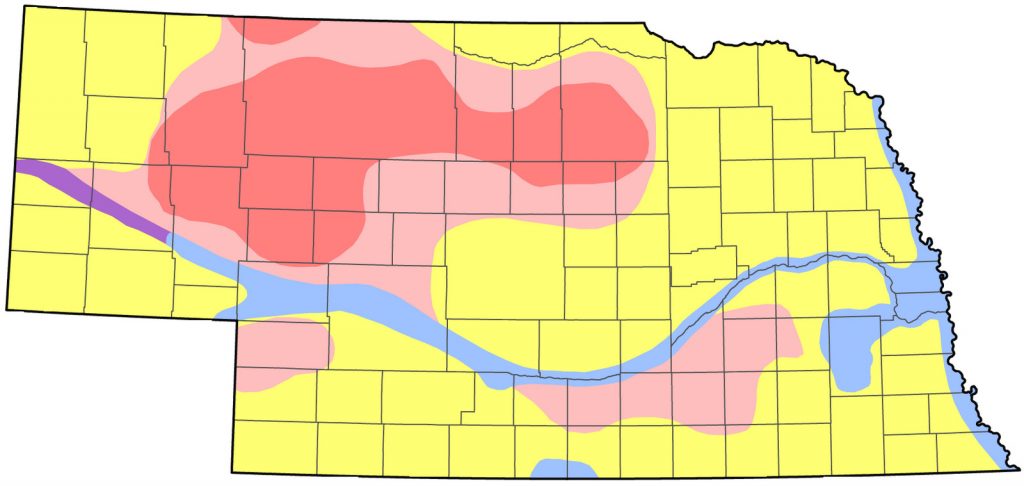 Documentation: Specimen: UNSM ZM12426, 4 Apr 1909, Grafton, Fillmore Co.
Taxonomy: No subspecies are recognized (https://avibase.ca/56CCA717).
Northern Pintail hybridizes with Mallard; for Nebraska records see Mallard x Northern Pintail.
Changes since 2000: Baldassarre (2104) cited data that indicated numbers of Northern Pintails in North America have "declined dramatically" since the 1970s, attributed mainly to poor recruitment of young into the breeding population. The decline has been apparent in Nebraska as BBS trend analysis shows an annual decline of – 6.17% (95% C.I.; -11.19, -1.11) during the years 1966-2017 and a -7.10%(95% C.I.; -22.68, 11.14) annual decline during the years 2005-2015 (Sauer et al 2017).
Spring: Arrival of migrants is usually coincident with snowmelt; pintails are among the first duck species to move through. Peak numbers occur in late Feb and early Mar. Radio-tagged female Northern Pintails arrived in the Rainwater Basin 18 Feb in 2004 and 7 Mar in 2003 (Pearse et al 2011). As many as 300 were in Thayer Co as early as 4 Feb 2006. Away from breeding locations, migrants are scarce after early May.
High counts: 200,000 at Harlan Co Reservoir, Harlan Co 9 Mar 2003, 75,000 at Lake McConaughy, Keith Co 10-11 Mar 1979 (Rosche 1994), and 73,000 in the eastern Rainwater Basin 17 Mar 2001.
Summer: Although breeding has been documented in suitable wetland habitats statewide (Ducey 1988), the highest breeding densities are found in the western and northern Sandhills. This species is a "rare to uncommon" breeder in the Rainwater Basin (Jorgensen 2012); Harding (1986) found 24 nests out of a total of 723 duck nests located in Clay Co in 1981-85, fewer than the 37 out of 206 nests located in 1967 (Evans and Wolfe 1967). "Quite a few pairs" were on playas in Perkins Co 26 May 2010; breeding there was shown as "probable" by Mollhoff (2001) and "confirmed" in Mollhoff (2016).
Summer reports away from the mapped breeding range are numerous and suggestive of breeding, but few documented occurrences have been reported.
Breeding phenology:
Eggs/Incubation: 22 Apr- 30 Jun (Mollhoff 2022).
Dependent fledglings: 30 Jun-1 Aug.
Fall: Migration begins in early to mid-August when small numbers appear away from breeding areas. However, 700 were found in Clay Co by 7 Aug 1971. Numbers peak during Oct. Northern Pintail drakes leave females early, in late May and Jun, to form molting groups. Some of these groups undertake extensive molt migrations (Palmer 1976), and so small numbers may appear as early as Jun-Jul in areas where breeding did not occur. An eclipse male was in Sheridan Co 29 Jun 2022.
High counts: 3340 at Lake McConaughy, Keith Co 15 Oct 2000, 1000 at La Platte Bottoms, Sarpy Co 31 Oct 2018, 1000 at Lake McConaughy, Keith Co 6 Oct 2022, 900 at Sutherland Reservoir 2 Nov 2020, and 880 at Crescent Lake NWR, Garden Co 4 Oct 1996.
Winter: Low numbers occur in small concentrations throughout the winter months, provided open water and open field foraging is available. Most winter reports are of males mixed with flocks of wintering Mallards; females may be overlooked. A good Jan tally was at least 30 and possibly as many as 250 scattered through a wintering Mallard flock of about 12,000 in Clay Co 30 Jan 2021.
High counts: 62 at Kiowa WMA, Scotts Bluff Co 16 Jan 2000, 50 near Alliance, Box Butte Co 22 Jan 2006, 30+ in Clay Co 30 Jan 2021, and 22 at Lake Minatare, Scotts Bluff Co 19 Jan 1998.
Images
Abbreviations
BBS: Breeding Bird Survey
UNSM: University of Nebraska State Museum
NWR: National Wildlife Refuge
WMA: Waterfowl Management Area (State)
Literature Cited
Baldassarre, G. 2014. Ducks, geese, and swans of North America. Johns Hopkins University Press, Baltimore, Maryland, USA.
Ducey, J.E. 1988. Nebraska birds, breeding status and distribution. Simmons-Boardman Books, Omaha, Nebraska, USA.
Evans, R.D., and C.W. Wolfe. 1967. Waterfowl production in the Rainwater Basin area of Nebraska. Journal of Wildlife Management 33: 788-794.
Harding, R.G. 1986. Waterfowl nesting preferences and productivity in the Rainwater Basin, Nebraska. Master's thesis, Kearney State College, Kearney, Nebraska, USA.
Jorgensen, J.G. 2012. Birds of the Rainwater Basin, Nebraska. Nebraska Game and Parks Commission, Lincoln, Nebraska, USA.
Mollhoff, W.J. 2001. The Nebraska Breeding Bird Atlas 1984-1989. Nebraska Ornithologists' Union Occasional Papers No. 7. Nebraska Game and Parks Commission, Lincoln, Nebraska, USA.
Mollhoff, W.J. 2016. The Second Nebraska Breeding Bird Atlas. Bull. Univ. Nebraska State Museum Vol 29. University of Nebraska State Museum, Lincoln, Nebraska, USA.
Mollhoff, W.J. 2022. Nest records of Nebraska birds. Nebraska Ornithologists' Union Occasional Paper Number 9.
Palmer, R.S., ed. 1976. Handbook of North American birds. Vol. 2. Waterfowl (Parts 1 and 2). Yale University Press, New Haven, Connecticut, USA.
Pearse, A.T., G.L. Krapu, R.R. Cox Jr., and B.E. Davis. 2011. Spring-Migration Ecology of Northern Pintails in South-Central Nebraska. Waterbirds 34: 10-18.
Rosche, R.C. 1994. Birds of the Lake McConaughy area and the North Platte River valley, Nebraska. Published by the author, Chadron, Nebraska, USA.
Sauer, J.R., D.K. Niven, J.E. Hines, D.J. Ziolkowski, Jr, K.L. Pardieck, J.E. Fallon, and W.A. Link. 2017. The North American Breeding Bird Survey, Results and Analysis 1966 – 2015 (Nebraska). Version 2.07. USGS Patuxent Wildlife Research Center, Laurel, Maryland, USA.
Recommended Citation
Silcock, W.R., and J.G. Jorgensen. 2022. Northern Pintail (Anas acuta). In Birds of Nebraska — Online. www.BirdsofNebraska.org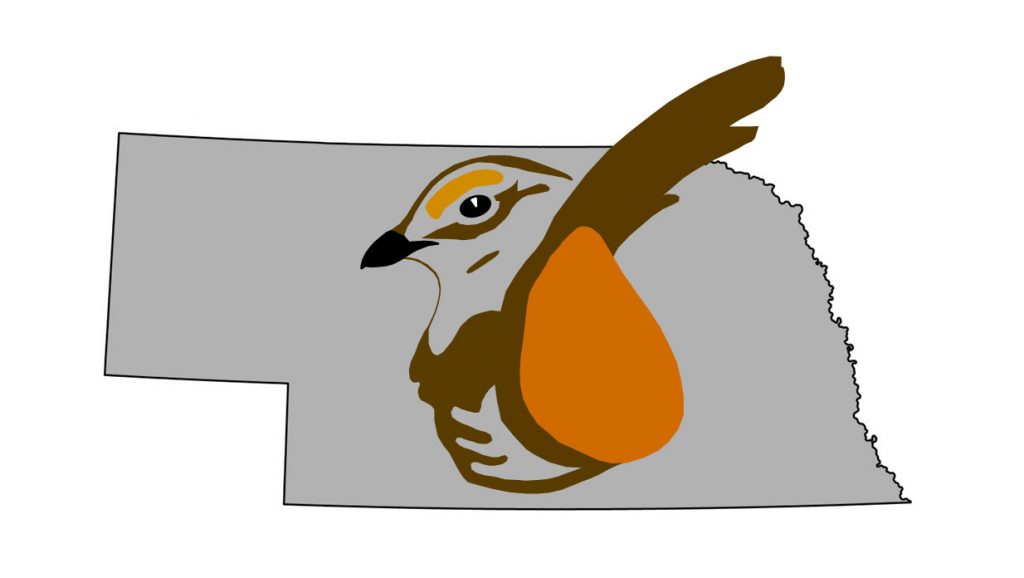 Birds of Nebraska – Online
Updated 13 Dec 2022