Piranga rubra rubra
Status: Locally fairly common regular breeder southeast. Rare casual summer visitor statewide away from southeast. Fairly common regular spring migrant east, rare casual elsewhere. Uncommon regular fall migrant east, rare casual elsewhere.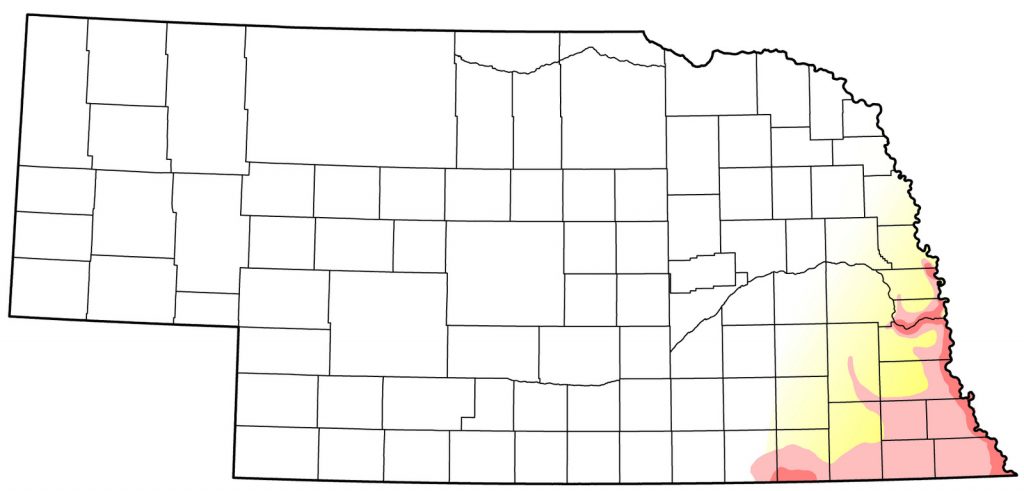 Documentation: Specimen: HMM 1858, 10 May 1917 Fairbury, Jefferson Co.
Taxonomy: Three subspecies are recognized (Pyle 1997): cooperi, breeding from southern California to southwest Utah and southwest Texas, ochracea, breeding in east-central Arizona, and rubra, breeding from southeast Nebraska to central-western Texas and east to Delaware to Florida.
Nebraska breeding birds are rubra.
There is a single Nebraska record of an apparent hybrid between this species and Scarlet Tanager, discussed in the Summer x Scarlet Tanager (hybrid) species account.
Changes since 2000: This species has expanded its range northward a short distance and increased noticeably in numbers at Indian Cave SP, Nemaha and Richardson Cos, and Fontenelle Forest, Sarpy Co since 2000-2001. Breeding Bird Survey analysis shows the species increasing by > 1.5% annually during the period 1966-2015 in the northwestern portion of its breeding range, which includes southeastern Nebraska (Sauer et al 2017).
Spring: Apr 25, 26, 26 <<<>>> summer
Earlier dates are 22 Apr 2020 Douglas Co, and 23 Apr 2007 photo Scotts Bluff Co (Kathy DeLara, pers. comm.).
Arrival is in early May.
There are about 34 reports in all away from the east, in the period 25 Apr-3 Jun; these are split rather evenly between the central and west. Fifteen are from the Panhandle 6 May-11 Jun; an early date was of one photographed in Scotts Bluff Co 23 Apr 2007 Scotts Bluff Co (DeLara, eBird.org).
High counts: 18 at Indian Cave SP 13 May 2003, 13 there 12 May 2004, and 11 there 12 May 2000.
Summer: Breeding birds occupy Missouri River Valley upland deciduous forests north to Sarpy Co (Mollhoff 2016). For many years the only regular breeding location was Schramm SP, Sarpy Co, where Padelford and Padelford (1980) found adults feeding young in a nest in a burr oak (Quercus macrocarpa) in 1980. It has been reported there most years since, including confirmed breeding during 1984-1989 in the first breeding bird atlas (Mollhoff 2001). Away from the Missouri River Valley, nesting activity was observed in Saunders Co in 1985 when adults were carrying nesting material (Bennett 1986), and in Otoe Co, where an adult was feeding a young bird 21 Jul 2000.
Numbers began to increase noticeably in 2000 and 2001 at Indian Cave SP and Fontenelle Forest, suggesting expansion and consolidation of the breeding range in those areas. The first report from Indian Cave SP was 15 Aug 1966, and breeding was first confirmed there in 2002, when a nest with one egg and two small young was found 28 Jun (Mollhoff 2004). Numbers have continued to increase at Indian Cave SP; 18 were counted there 13 May 2003. Breeding activity was first observed at Fontenelle Forest in 2007.
Away from these locations, small range expansions occurred after 2007. Mollhoff (2016) showed confirmed breeding in southwest Richardson Co during 2006-2011; one was at nearby Kinter's Ford WMA 9 Jul 2012. One was in Saunders Co 22 Jun 2015 and another in Colfax Co 6 Jun 2009. Woods near Buccaneer Bay in extreme northeast Cass Co were thought to have breeding birds in 2008.
In recent years there has been some expansion westward from the Missouri River Valley in the southeast. Other than an old record of a nest with eggs collected by N. E. Goss near Lincoln, Lancaster Co 3 Jul 1880 (University of Kansas Biodiversity Institute, Lawrence #95726) (Mollhoff 2022), the first report in Lancaster Co was adjacent to Wilderness Park, a female soliciting copulation 19 May 2009 (Tom Labedz, pers. comm.). One was at Wilderness Park 19 May 2010 and pairs were there 2 Jun 2011, 10 May 2015, and 30 Aug 2016; singles were there 8 and 30 Jul 2012, 15 Jul 2012, and 26 Jul 2016, and one was at Pioneers' Park, Lincoln 15 Jun 2008. Recent reports in the Sandstone Prairie area in Jefferson Co are of one at Rock Glen WMA 30 Jun 2007, 1-2 at Rose Creek WMA 3-4 Jun 2016, 1-2 there 11 and 28 Jul 2017, one at Rock Creek SHP 12 Jun 2016; it was said to "summer" in Jefferson Co in 2020 (Matt Hansen, pers. comm.). Another was found in nearby Thayer County 29 May 2016. Reports from Twin Oaks WMA, Johnson Co are 1 Jun 2013, 1 Jun 2016, and 12 Jul 2016; one was at Wirth Bros Lake RA, Johnson Co 9 Jun 2016.
There are older reports of summering birds elsewhere. A "breeding pair" was reported in cottonwoods in Thomas Co 16 Jun-13 Jul 1993, although no evidence for nesting was noted (Bright 1993, Silcock and Rosche 1994, Grzybowski 1993); Bray (1994) did not list this report, but noted a singing male, probably the same bird, in jack pines there 13 Jun-21 Jul 1993. Another was reported in Thomas Co 19 Apr 1957 without details (Bray 1994). A pair was reported at North Platte, Lincoln Co in summer 1993 (Silcock and Rosche 1994) and again 6 Sep 1994 (Silcock and Rosche 1994), and a female was just south of North Platte, Lincoln Co 30 Jun 2014.
As this species has increased in numbers in Nebraska, summer reports away from the southeast have become more widespread, notably northward in the Missouri River Valley as an extension of the southeastern breeding range. One was at Ponca SP, Dixon Co 11 Jul 2009, another at Wiseman Monument, Cedar Co 26 Jun-2 Jul 2017, and a male seen 9 Aug and a female/immature three days later in the same place in Knox Co in 2017. A male near Verdigre, Knox Co 13 May 2021 was at a "known location" where this species has been present for "at least five years" and breeding has "no doubt" occurred (Mark Brogie, pers. comm.).
Elsewhere, a male was in Morrill Co 11 Jun 2010, and one was photographed at Fort Niobrara, Cherry Co 20 Jul 2017. There are numerous records statewide of wandering birds, most often immature males in patchy red and orange plumages.
Breeding phenology:
Eggs: 28 Jun- 25 Aug (Mollhoff 2022)
Nestlings: 21 Jun-26 Aug
Fledglings: 24 Jul-1 Sep
A late breeding event involved an incubating female 13 Aug near Brownville, Nemaha Co; nestlings were being fed 26 Aug, and the young fledged by 1 Sep (Hopps 2011). This was apparently a second brood, as a male was feeding a fledgling in the same area on 11 Aug (Hopps 2011). Similarly, an adult male was feeding a juvenile 31 Aug 2009 at Platte River SP, Cass Co, and an adult was feeding young there 1 Sep 2014.
Fall: summer <<<>>> Oct 2, 2, 4
Later dates are 8 Oct 2014 Sarpy Co, 8 Oct 2014 Fontenelle Forest, 10 Oct 2021 Bellevue, Sarpy Co, 11 Oct 2017 Bellevue, Sarpy Co, 12 Oct 1987 Douglas-Sarpy Cos, 21 Oct 2015 photo Douglas Co, 25 Oct 2009, a female photographed at Fontenelle Forest, Sarpy Co, 30 Oct 1985 (Williams 1986), and a female at a Bellevue feeder 20 Nov-27 Dec 1993 (Grzybowski 1994).
Departure is completed by late Sep.
Until the late 1990s there were few fall reports, most of those from the only known breeding location at Schramm SP, Sarpy Co. Since then, reports have increased markedly in the Missouri River Valley.
The only Panhandle records are of one photographed at Oliver Reservoir, Kimball Co 7 Sep 2015, one at Oshkosh, Garden Co 19 Sep 2012, and one at Ash Hollow SHP, Garden Co 21 Sep 2003. The only central Nebraska reports are 1 Sep 2014 Buffalo Co and 19 Sep 1984 Lincoln Co (Cortelyou 1985).
High counts: 5 at Indian Cave SP 4 Sep 2010 and 5 there 13 Sep 2010.
Images
Abbreviations
HMM: Hastings Municipal Museum
RA: Recreation Area
SHP: State Historical Park
SP: State Park
UNSM: University of Nebraska State Museum
WMA: Wildlife Management Area (State)
Literature Cited
Bennett, E.V. 1986. 1985 Nebraska nesting survey. NBR 54: 31-35.
Bray, T.E., B.K. Padelford, and W.R. Silcock. 1986. The birds of Nebraska: A critically evaluated list. Published by the authors, Bellevue, Nebraska, USA.
Bright, D. 1993. White-eyed Vireo and Summer Tanager. NBR 61: 137.
Cortelyou, R.G. 1985. 1984 (Twenty-seventh) Fall Occurrence Report. NBR 53: 5-18.
Grzybowski, J.A. 1993. Southern Great Plains Region. American Birds 47: 1122-1124.
Grzybowski, J.A. 1994. Southern Great Plains Region. American Birds 48: 222-223.
Hopps, E.C. 2011. A late-season breeding record for the Summer Tanager in Nebraska. NBR 79: 33-36.
McCormick, L.M. 1893. A Hybrid Tanager. Auk 10: 302-303.
Mollhoff, W.J. 2001. The Nebraska Breeding Bird Atlas 1984-1989. Nebraska Ornithologists' Union Occasional Papers No. 7. Nebraska Game and Parks Commission, Lincoln, Nebraska, USA.
Mollhoff, W.J. 2004. The 2002 Nebraska Nesting Report. NBR 72: 153-158.
Mollhoff, W.J. 2016. The Second Nebraska Breeding Bird Atlas. Bull. Univ. Nebraska State Museum Vol 29. University of Nebraska State Museum, Lincoln, Nebraska, USA.
Mollhoff, W.J. 2022. Nest records of Nebraska birds. Nebraska Ornithologists' Union Occasional Paper Number 9.
Padelford, L., and B. Padelford. 1980. Summer Tanager nest. NBR 48: 90.
Pyle, P. 1997. Identification Guide to North American Birds. Part I, Columbidae to Ploceidae. Slate Creek Press, Bolinas, California, USA.
Rosche, R.C. 1994. Birds of the Lake McConaughy area and the North Platte River valley, Nebraska. Published by the author, Chadron, Nebraska, USA.
Sauer, J.R., D.K. Niven, J.E. Hines, D.J. Ziolkowski, Jr, K.L. Pardieck, J.E. Fallon, and W.A. Link. 2017. The North American Breeding Bird Survey, Results and Analysis 1966 – 2015 (Nebraska). Version 2.07. USGS Patuxent Wildlife Research Center, Laurel, Maryland, USA.
Silcock, W.R., and R.C. Rosche. 1994. Fall Field Report, August-November 1994. NBR 62: 126-149.
Williams, F. 1986. Southern Great Plains Region. American Birds 40: 134-138.
Recommended Citation
Silcock, W.R., and J.G. Jorgensen. 2023. Summer Tanager (Piranga rubra). In Birds of Nebraska — Online. www.BirdsofNebraska.org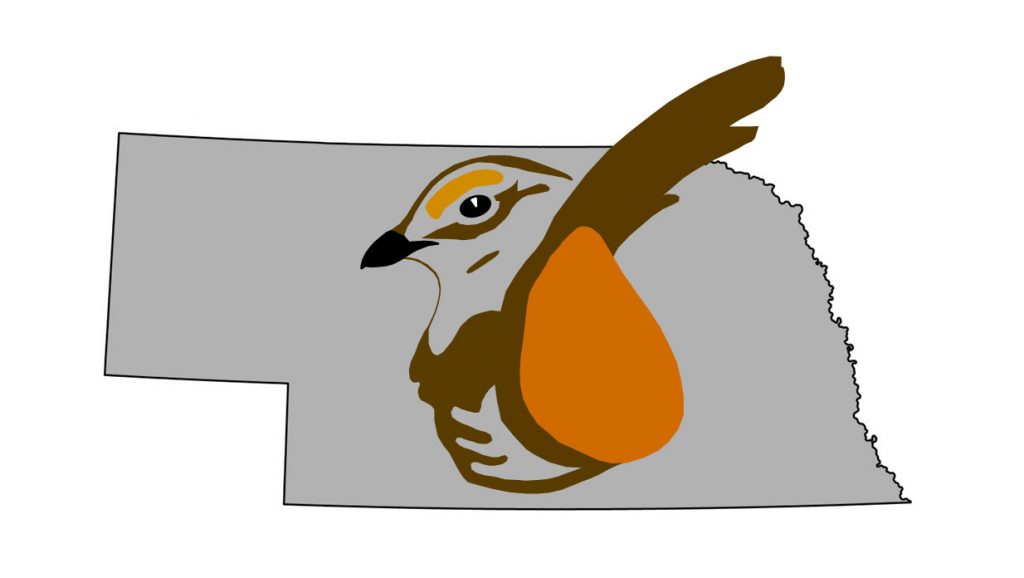 Birds of Nebraska – Online
Updated 1 Jan 2023