Piranga ludoviciana
Status: Uncommon regular spring and fall migrant west and west-central, rare casual east-central and east. Fairly common regular breeder Pine Ridge. Accidental in winter.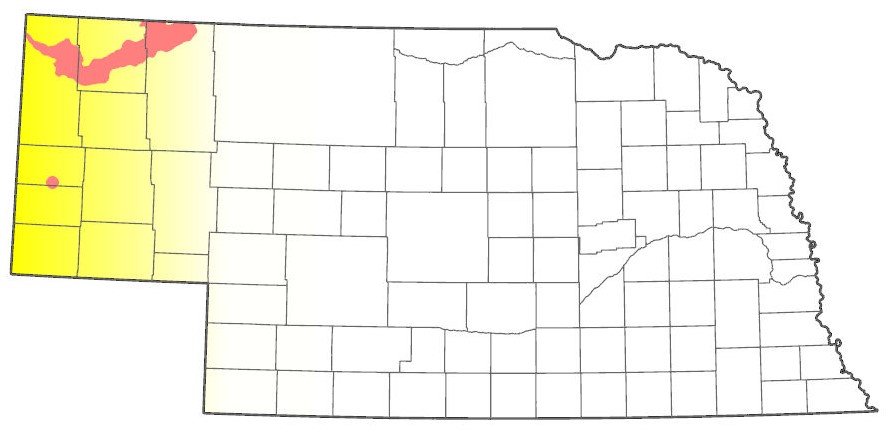 Documentation: Specimen: UNSM ZM7051, 26 May 1900 Monroe Canyon, Sioux Co.
Taxonomy: No subspecies are recognized (Pyle 1997).
See discussion regarding hybridization with Scarlet Tanager under that species.
Spring: May 9, 10, 12 <<<>>> summer (Panhandle)
Early dates above are for the Panhandle; earlier dates there are 1 May 1997 Dawes Co, 2 May 2020 Banner Co, and 4 May 2022 Kimball Co.
However there are several earlier easterly dates in Nebraska and in states east of Nebraska, possibly of returning Western Tanagers that wintered on the Atlantic and Gulf Coasts (Hudon 2020; eBird.org, accessed Apr 2021). Of about 20 easterly reports for Nebraska, no fewer than nine are earlier than the early Panhandle dates cited above, including five in Apr. These early easterly dates are 23 Apr 2022 Douglas Co, 26 Apr 2008 male photo Plattsmouth, Cass Co (Brogie 2009a), 28-30 Apr 2009 Omaha (Brogie 2009b), 28 Apr-3 May photo Bellevue, Sarpy Co, 28 Apr-3 May 2015 Bellevue, 2 May 2008 photo Benedict, Polk Co, 3-4 May 1997 Omaha (Silcock and Jorgensen 1997), 5 May 1995 Neale Woods, Douglas Co (Brenneman 1995), and 8 May 1994 at Indian Cave SP, Nemaha and Richardson Cos (Silcock and Rosche 1994).
Additional easterly reports are 11 May 1997 Fontenelle Forest, Sarpy Co, 11 May 2013 photo Plattsmouth, 11 May 2018 photo Wilderness Park, Lancaster Co, 11-13 May 2020 Norfolk, Madison Co, 13 May 1995 Sarpy Co (Morris 1995), 13 May 2020 Fontenelle Forest, Sarpy Co, 14-15 May 2020 Omaha, Douglas Co, 17 May 2014 Douglas Co, 18 May 2022 Jefferson Co, 24 May 1942 Jefferson Co, and 29 May 1957 Lancaster Co.
Spring arrival is in early May.
Away from the Panhandle and west central, this species is a less than annual migrant.
High counts: 12 at Bushnell Cemetery, Kimball Co 28 May 2011, 8 in Kimball and Banner Cos 17 May 2003, and 7 at Gotte Park, Kimball 30 May 2011.
Summer: According to Rosche (1982), Western Tanager is most common in western Pine Ridge canyons, but it occurs east to Sheridan Co, where breeding was confirmed in both breeding bird atlases (Mollhoff 2001, 2016). Breeding season sightings in Sheridan Co are of two at Metcalf WMA 12 Jun 2011, and one near Whiteclay 21 Jul 2015. Reports in Sheridan Co 4 Jun 1986 and 4 Jun 2016 may have been of late migrants. One near Joder, Sioux Co 8 Jul 2011 was probably a wandering local breeder.
The only other location with suitable habitat and breeding season reports is the Wildcat Hills in Scotts Bluff Co, where, however, nesting was undocumented despite several records since 2015 until 2022 when a nest with newly hatched young was found 27 Jun (Brenner, DaRugna; eBird.org). One was there 2 Jul 2015; in 2017 there were four reports 20 Jun-28 Jul, in 2018 two birds 11 Jun, and in 2019 singles 16 and 29 Jun and 8 Jul. In 2021 there were four reports of singles 3-28 Jun, and in 2022 eight reports of 1-2 birds including the first nest record for the Wildcat Hills. Additional Scotts Bluff Co reports include singles at Buffalo Creek WMA 13 Jun 2022, Gering Cemetery 21 Jun 2019, in Carter Canyon 26 Jun 2016, and at Cedar Canyon WMA 16 Aug 2012 as well as Scotts Bluff Co reports (unspecified locations) 2 Jun 1980, 13 Jul 1972, and 7 Aug 1976, and one at Scotts Bluff NM 17 Jun 2013. Mollhoff (2001) shows a "possible" breeding record in Scotts Bluff Co in the period 1984-89, and during 2006-2011 Mollhoff (2016) showed nesting season reports in eastern Banner and southeast Morrill Cos.
There are very few other reports away from the Pine Ridge and Wildcat Hills after early Jun: 11 Jun 1995 Kimball Co, 18 Jun 1860 Snake River, Cherry Co (Coues 1874), and 27 Jun 1967 Brown Co.

Eight were counted in Sowbelly Canyon, Sioux Co 13 Jun 2019, eight at Gilbert-Baker WMA, Sioux Co 4 Jun 2020, and seven near Fort Robinson SHP, Sioux Co 21 Jun 2020.
Breeding phenology:
Eggs: 12 Jun-27 Jul (Mollhoff 2022)
Nestlings: 27 Jun
Fledglings: 27-30 Jun.
Fall: summer <<<>>> Sep 30, Oct 1, 2
Later dates are 6 Oct 2020 Scotts Bluff Co, 8 Oct 2018 Chadron SP, Dawes Co, 14 Oct 1981 Pierce Co (specimen WSC 750), and 20 Nov 1964 Lincoln Co (see below).
Migrants appear away from breeding areas by late Jul, but mostly in Aug, and departure is essentially completed by late Sep. Four were at Fort Niobrara NWR, Cherry Co 30 Aug 1978 Robin Carter fide John Grego, pers. comm.).
Western Tanager is a casual fall migrant in the east, with these reports: 10 Sep 1963 Jefferson Co, 13 Sep 2021 Lancaster Co, 1 Oct 2014 Omaha, and 14 Oct 1981 Pierce Co (specimen WSC 750). A later date in the central is of a female in Lincoln Co 20 Nov 1964 which apparently was collected, since there is a specimen taken at North Platte, Lincoln Co Nov 1964 (USNM 488495).
High counts: 7 in Kimball and Scotts Bluff Cos 3 Sep 2000, 7 at Bushnell, Kimball Co 13 Sep 2007, and 4 on 7 Sep 2015 at Oliver Reservoir, Kimball Co, 4 at Chadron SP, Dawes Co 24 Sep 2015, 4 in Sowbelly Canyon, Sioux Co 3 Sep 2017, and 4 at Oliver Reservoir 14 Sep 2021.
Winter: One in an Omaha yard 9 Jan 1966 was photographed and identified as this species by the members of the Omaha Bird Club (Cortelyou 1966). Western Tanagers are rare but regular in winter in eastern North America.
Images
Abbreviations
NC: Nature Center
NM: National Monument
SP: State Park
UNSM: University of Nebraska State Museum
WMA: Wildlife Management Area (State)
WSC: Wayne State College
Literature Cited
Brenneman, J. 1995. Western Tanager. NBR 63: 61.
Brogie, M.A. 2009a. 2008 (20th) Report of the NOU Records Committee. NBR 77: 80-90.
Brogie, M.A. 2009b. 2009 (21st) Report of the NOU Records Committee. NBR 77: 160-168.
Cortelyou, R.G. 1966. Note. NBR 34: 41.
Coues, E. 1874. Birds of the Northwest: A handbook of the ornithology of the region drained by the Missouri River and its tributaries. Government Printing Office, Washington, D.C., USA.
Hudon, J. 2020. Western Tanager (Piranga ludoviciana), version 1.0. In Birds of the World (A. F. Poole and F. B. Gill, Editors). Cornell Lab of Ornithology, Ithaca, NY, USA. https://doi.org/10.2173/bow.westan.01.
Mollhoff, W.J. 2001. The Nebraska Breeding Bird Atlas 1984-1989. Nebraska Ornithologists' Union Occasional Papers No. 7. Nebraska Game and Parks Commission, Lincoln, Nebraska, USA.
Mollhoff, W.J. 2016. The Second Nebraska Breeding Bird Atlas. Bull. Univ. Nebraska State Museum Vol 29. University of Nebraska State Museum, Lincoln, Nebraska, USA.
Mollhoff, W.J. 2022. Nest records of Nebraska birds. Nebraska Ornithologists' Union Occasional Paper Number 9.
Morris, R. 1995. Sarpy County North American Migration Count, May 13, 1995. NBR 63: 62-66.
Pyle, P. 1997. Identification Guide to North American Birds. Part I, Columbidae to Ploceidae. Slate Creek Press, Bolinas, California, USA.
Rosche, R.C. 1982. Birds of northwestern Nebraska and southwestern South Dakota, an annotated checklist. Cottonwood Press, Crawford, Nebraska, USA.
Silcock, W.R., and J.G. Jorgensen. 1997. Spring Field Report, March-May 1997. NBR 65: 74-99.
Silcock, W.R., and R.C. Rosche. 1994. Spring Field Report, March-May 1994. NBR 62: 66-88.
Recommended Citation
Silcock, W.R., and J.G. Jorgensen. 2023. Western Tanager (Piranga ludoviciana). In Birds of Nebraska — Online. www.BirdsofNebraska.org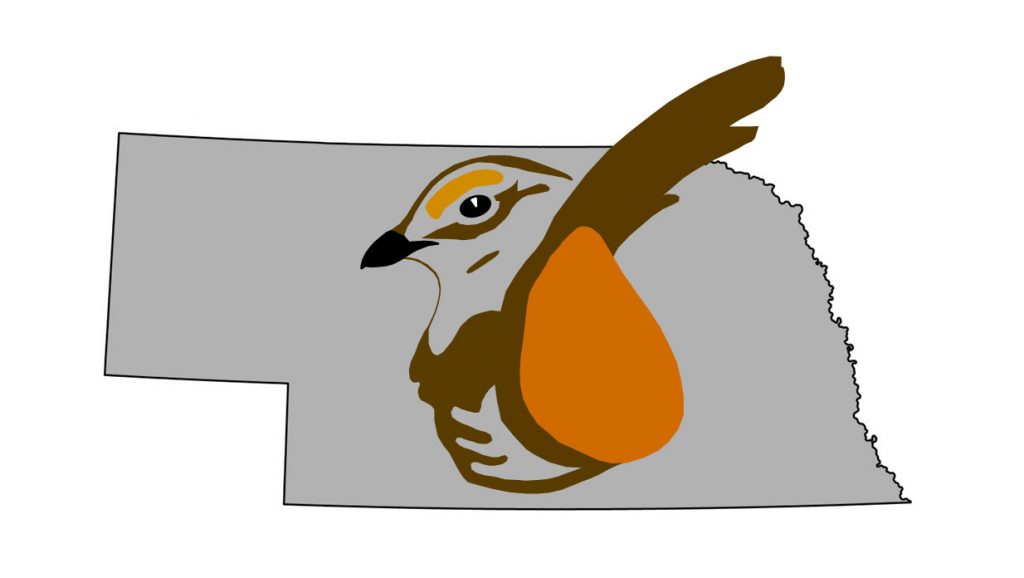 Birds of Nebraska – Online
Updated 1 Jan 2023, map updated 8 Mar 2023