Plegadis chihi
Status: Common regular spring and fall migrant west and central, uncommon east. Uncommon regular breeder north and west, rare southeast.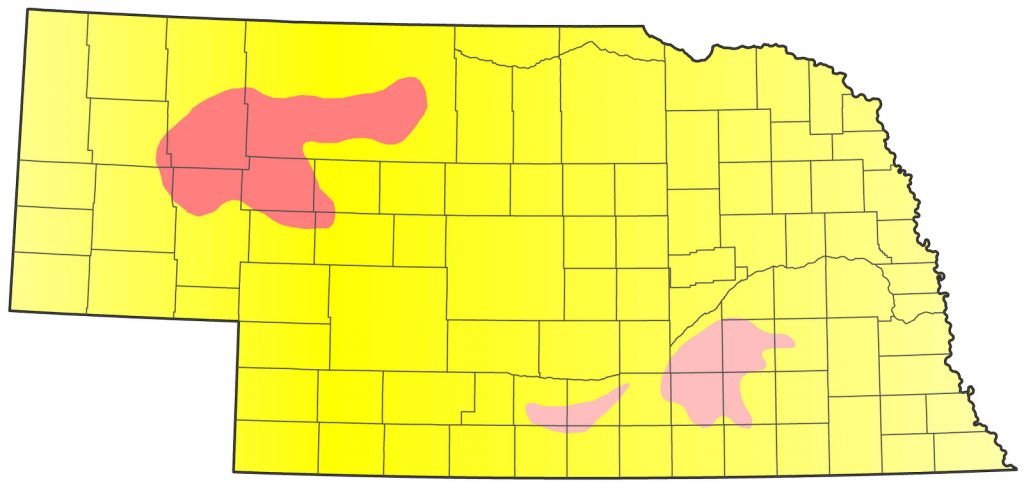 Documentation: Specimen: Olson #43 at UNK, 12 Jun 1916 Island Lake, Crescent Lake NWR, Garden Co.
Taxonomy: No subspecies are recognized.
This species hybridizes extensively with Glossy Ibis. For further information, see https://birds.outdoornebraska.gov/glossy-x-white-faced-ibis-hybrid/.
Changes Since 2000: Numbers have increased substantially since 2000, and, at the same time, so has breeding activity. Breeding was first recorded in 2001 in the Rainwater Basin and is now almost annual there.
Spring: Apr 9, 9, 9 <<<>>>Jun 7, 7, 8
Earlier dates are 29 Mar 2019 (3) Rowe Sanctuary, Buffalo Co, 6 Apr 2020 Seward Co, and 6 Apr 2021 in Seward Co.
Late dates above are away from likely breeding areas and are mostly tardy migrants; most move through in late Apr and early May, and dates from mid-Jun on are mostly non-breeding immatures or potential breeders (see Summer).
High counts: 400 in Lincoln Co 2 May 2016, 300 in the Oshkosh area, Garden Co 3 May 2006, 300 along Washboard Road, Lincoln Co 4 May 2022, 260 at Crescent Lake NWR, Garden Co 18 May 2018, and 259 at Kiowa WMA, Scotts Bluff Co 24 May 2021.
Summer: Since 1990, White-faced Ibis has been observed with increasing frequency and regularity on the Great Plains (Jorgensen and Dinsmore 2005). Historically, it had been assumed that White-faced Ibis was once rather common in the state but declined substantially in the period 1920-1960, possibly as marshes were drained, but Jorgensen and Dinsmore (2005) showed that this species was not in fact common at any time prior to the late 1980s. There is only a single record of breeding prior to 1984, a nest with eggs at what is now Harvard WPA, Clay Co 4 Jun 1916 (Swenk 1918).
The first modern breeding occurred in the western Sandhills, where Ducey and Emerick (Ducey 1984) found six nests with eggs at Marsh Lakes in the northeast corner of Valentine NWR, Cherry Co 21 Jun 1984; young were seen by refuge personnel later in the season, who reported that ibises had been present in 1983 and "several years prior" (Mollhoff 2001) including 1981 (McDaniel; Mollhoff 2022). Further evidence of breeding was discovered in the western Sandhills in 1987, when young were fledged (Huber 1987), 1989 (Warrick; Mollhoff 2022), 1998 (Stephen Dinsmore, pers. comm.), 2001 (Mollhoff 2004), and 2007-2009 (Mollhoff 2008, 2016), and has continued since. A 1992 survey at Crescent Lake NWR tallied 46 nests (NGPC; Mollhoff 2022).
Nesting was first observed in the Rainwater Basin in 2001, when 25 nests were discovered at Kissinger Basin WMA, Clay Co 15 Jun; some 75 birds were present, but they abandoned the area by 14 Jul, probably due to falling water levels, and apparently moved to Harvard WPA, Clay Co (Jorgensen 2012). Between 2001 and 2015 there were at least nine breeding attempts in the Rainwater Basin but decreasing water levels at nesting sites or cattle grazing (Mollhoff 2008) caused colonies either to be abandoned or to fail. Re-nesting occurred at Harvard WPA in 2010; 12 nests and 50 adults were there 7 Jun, but on 5 Jul 15 nests and 42 adults with eggs were found, suggesting that the earlier nests were flooded (the water was about 18 inches higher) and the birds had re-nested. In 2013, 50 birds and 20 nests were at Harvard WPA 21 Jun; numbers increased to 83 on 20 Jul, the latter count likely including newly fledged birds, but successful breeding was not confirmed. In 2015, a colony of 70 White-faced Ibis were tending at least 11 nests at Harvard WPA 7 Jul, and also at a second site, Kirkpatrick Basin North WMA, York Co, young were successfully fledged 8 Jul. Four young fledged from the York Co colony, and on 10 Aug, these two colonies had 50 and 10 juveniles respectively. When water levels are suitable, Harvard WPA has become a regular nesting site; in 2019, up to 70 adult birds were present and multiple nests with eggs and/or young were observed on 17 Jun and 24 July, and 10-20 fledged birds were present on 20 August (Jorgensen and Brenner 2019).
Nesting away from the Sandhills and Rainwater Basin is unknown, although a group of 10 at Harlan Co Reservoir, Harlan Co 30 Jun 2005 was of interest; 1-2 remained through Jul, and a few were frequenting cattails there 16 Jul 2006 and were thought "possibly breeding".
Breeding phenology:
Eggs: 31 May- 8 Jul (Mollhoff 2022)
Broods: 17 Jun-20 Aug.
Fall: Jul 18, 19, 20 <<<>>> Oct 18, 19, 19
Early dates above are away from potential breeding areas. Early dates for fall movement are difficult to discern due to the increasing numbers of ibises summering in the Sandhills and Rainwater Basin. It is difficult to identify fall Plegadis ibises to species although the vast majority are White-faced Ibises.
Later dates are 29 Oct 2016 Saunders Co, 31 Oct 2019 Lancaster Co, 31 Oct 2020 Lancaster Co, 4 Nov 2016 Sanders Co, 11 Nov 2016 Saunders Co, 14 Nov 2020 Lancaster Co, and a Plegadis sp. ibis photographed near Gavin's Point Dam, Cedar Co 2-5 Dec 2010.
High counts: 245 in Grant Co 4 Aug 2007, 190 at Goose Lake, Crescent Lake NWR, Garden Co 18 Aug 2020, 188 in southeast Polk Co 17 Sep 2018, 139 at Crescent Lake NWR 11 Aug 2006, and 111 at Lakeside, Sheridan Co 4 Aug 2013.
Images
Abbreviations
NWR: National Wildlife Refuge
SL: Sewage Lagoons
UNK: University of Nebraska- Kearney
WMA: Wildlife Management Area (State)
WPA: Waterfowl Production Area (Federal)
Literature Cited
Ducey, J.E. 1984. Cattle Egrets and White-faced Ibises nesting at Valentine Refuge. NBR 52: 76.
Huber, R.R. 1987. Crescent Lake nesting records. NBR 55: 75.
Jorgensen, J.G. 2012. Birds of the Rainwater Basin, Nebraska. Nebraska Game and Parks Commission, Lincoln, Nebraska, USA.
Jorgensen, J.G., and S.J. Dinsmore. 2005. An Assessment of the Status of White-Faced Ibis (Plegadis chihi) in the Great Plains. North American Birds 59: 376-381.
Mollhoff, W.J. 2001. The Nebraska Breeding Bird Atlas 1984-1989. Nebraska Ornithologists' Union Occasional Papers No. 7. Nebraska Game and Parks Commission, Lincoln, Nebraska, USA.
Mollhoff, W.J. 2004. The 2001 Nesting Report. NBR 72: 99-103.
Mollhoff, W.J. 2008. The 2007 Nebraska nest report. NBR 76: 155-165.
Mollhoff, W.J. 2016. The Second Nebraska Breeding Bird Atlas. Bull. Univ. Nebraska State Museum Vol 29. University of Nebraska State Museum, Lincoln, Nebraska, USA.
Mollhoff, W.J. 2022. Nest records of Nebraska birds. Nebraska Ornithologists' Union Occasional Paper Number 9.
Swenk, M.H. 1918. Revisory notes on the birds of Nebraska. Wilson Bulletin 30: 112-117.
Recommended Citation
Silcock, W.R., and J.G. Jorgensen. 2022. White-faced Ibis (Plegadis chihi). In Birds of Nebraska — Online. www.BirdsofNebraska.org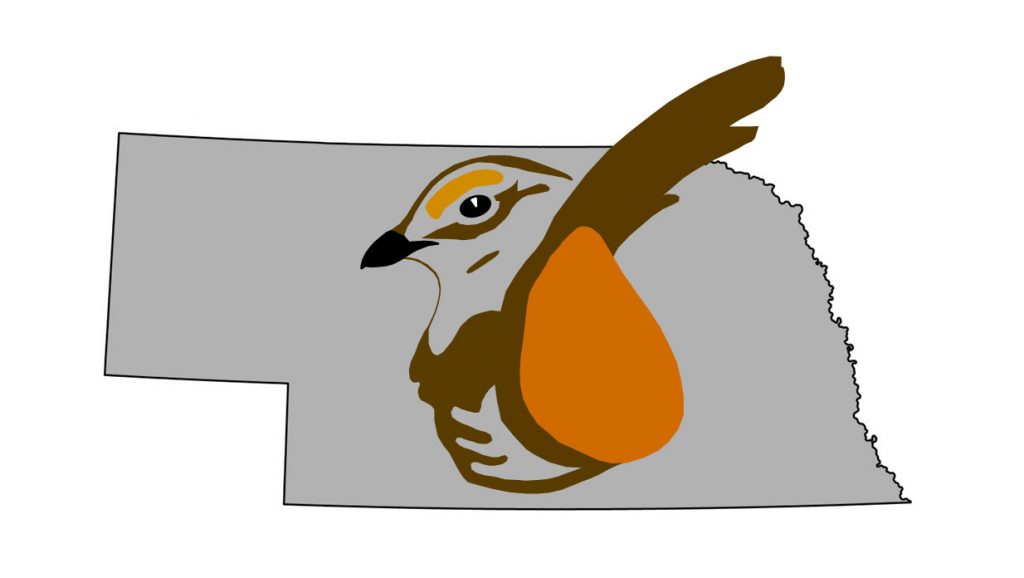 Birds of Nebraska – Online
Updated 22 Jun 2022