Anas rubripes
Status:  Rare casual fall and spring migrant and winter visitor east. Rare casual summer visitor statewide.
Documentation: Specimen: UNK un-numbered, 20 Oct 1912 Kearney, Buffalo Co.
Taxonomy: No subspecies are recognized.
See Mallard for a discussion of Mallard taxonomy and hybridization with that species.
As discussed under Mallard (https://birds.outdoornebraska.gov/mallard), hybridization with that species has declined in recent years and forecasted genetic swamping of American Black Duck is no longer a threat (Lavretsky et al 2019). Further phenotypic identification of American Black Duck and hybrids has been shown to be quite inaccurate; Lavretsky et al (2019) found that of birds within the hybrid zone about 20% of identified American Black Ducks were in fact hybrids, and only about 60% of phenotypically identified hybrids were true hybrids with about 25% of remaining samples being actually "pure" American Black Ducks.
A presumed hybrid was at Branched Oak Lake, Lancaster Co 14 Feb 1999 and a few female-type birds at Carter Lake, Douglas Co during winter 2013-2014 had greenish tinges to their crowns. The male of a pair in Sarpy Co 22-23 Mar 2014 had greenish feathering on its head, likely a hybrid. Two hybrids were reported in spring 2016: one at Lake McConaughy, Keith Co 2 Jan, and another in Platte Co 7 Jan, the latter a dark bird but with brownish coloration in its breast. A photograph of a bird in flight in Dodge Co 19 Mar 2018 (Croshaw, https://ebird.org/view/checklist/S43788059) suggested mixed parentage.
Changes since 2000:  There was a >50% decline in overall numbers of this species in North America between the 1950s and 1980s, and subsequent conservation efforts have had little impact due to the lack of habitat or behavioral differences between this species and Mallard (Baldassarre 2014). Between 1998 and 2019 the population declined from about 939,900 to 729,400 (US Fish and Wildlife Service 2019, Table B5). This species was rare but regular especially along the Missouri River Valley in Nebraska as a migrant and winter visitor as recently as the 1980s (See Figure 1, Appendix below).
Spring:  winter <<<>>> Apr 5, 5, 6
Movements of this species coincide with those of Mallards, suggesting increased numbers during spring and fall but with a notable winter presence as well. Almost all sightings are in the east in the Missouri River Valley counties. During Zeillemaker's five-year tenure (1978-82) at Crescent Lake NWR, Garden Co and North Platte NWR, Scotts Bluff Co, he recorded no American Black Ducks (Roger Sharpe, personal communication).
Later reports are: 11 Apr 1989 Dakota Co, 19 Apr 2003 Sherman Co Reservoir, Sherman Co, 25 Apr Oshkosh, Garden Co (HMM 3076), 6 May 1930 Antioch, (Rosche 1982), 12 May 1958 Douglas Co, and 12 May 1991 Sarpy Co.
There are these reports west of Hall Co: 14 Mar 1949 Chadron, Dawes Co (Rosche 1982), Apr 1925 Oshkosh, Garden Co (HMM 3076), and 6 May 1930 Antioch, Sheridan Co (Rosche 1982).
Summer: The few summer reports are in the period 7 Jun-22 Aug. Although it is likely that some summer reports of American Black Duck may result from the difficulty of identifying this species compared with the rather dark-plumaged Gulf Coast Mottled Duck (A. fulvigula maculosa) or possibly Mexican Duck (A. diazi), there is some westward molt migration of American Black Ducks in late May and early Jun by males, usually to Manitoba and Saskatchewan (Baldassare 2014), which might be a source for a few summer vagrants in Nebraska.
A female (greenish bill) was reported as an American Black Duck at Jack Sinn WMA, Saunders Co 31 May-11 Jun 2016; it was studied at a distance but had a "dark blue-purple speculum with no white edging", thus possibly a Mottled Duck.
An intriguing source of summer birds, especially near population centers, may be released Easter ducklings (Cortelyou 1975).
Fall:  Nov 1, 1, 3 <<<>>> winter
There are these earlier reports: a Sep 1906 specimen HMM 1960 taken at Funk WPA, Phelps Co (Swenk, Notes Before 1925), a Sep 1910 specimen taken at Sutton, Clay Co (Swenk, Notes Before 1925), and three undocumented reports 13-15 Sep 1977 Garden Co, 9 Oct 1999 Brown Co, and 10 Oct 1986 Platte Co. Later reports are of presumed wintering birds.
Panhandle reports are few: 13-15 Sep 1977 Garden Co, 29 Oct 1976 Box Butte Reservoir, Dawes Co (Rosche 1982), and 29 Dec 1962 Scottsbluff CBC. Westerly were one taken on the Dismal River in Thomas Co 10 Nov 1906 (HMM 2562), one on 18 Nov 2020 Sutherland Reservoir, Lincoln Co (details), one shot near North Platte, Lincoln Co in fall 1923 (Tout 1947), and one flying with Mallards in Keith Co 2 Dec 2010.
Winter: Reports are fewest mid-Jan through Feb, all from the east: 9 Jan 2006 Harvard WPA, Clay Co, 9 Jan-23 Feb 2014 Carter Lake, Douglas Co (Brogie 2015), 10 Jan 1989 Cedar Co, 12 Jan 1985 Lancaster Co, 16 Jan 2000 Lancaster Co, 16 Jan 2011 Sarpy Co, 16 and 22 Jan Cass Co, 17 Jan 1986 Douglas-Sarpy Cos, 18 Jan 1983 Douglas-Sarpy Cos, 18 Jan 1986 Dakota Co, 19 Jan 2013 Cass Co, 20 Jan 1980 Washington Co, 20 Jan 1989 Boone Co, 22 Jan 2011 Cass Co, 30 Jan 1983 Lancaster Co, 3 Feb 1979 DeSoto NWR, Washington Co, 1-2 on 6-13 Feb 1999 at Branched Oak Lake, 14 Feb 1989 Lancaster Co, and 20 Fe 2021 Platte Co.
Images
Abbreviations
HMM: Hastings Municipal Museum
NWR: National Wildlife Refuge
UNK: University of Nebraska-Kearney
UNSM: University of Nebraska State Museum
WMA: Waterfowl Management Area (State)
WPA: Waterfowl Production Area (Federal)
Appendix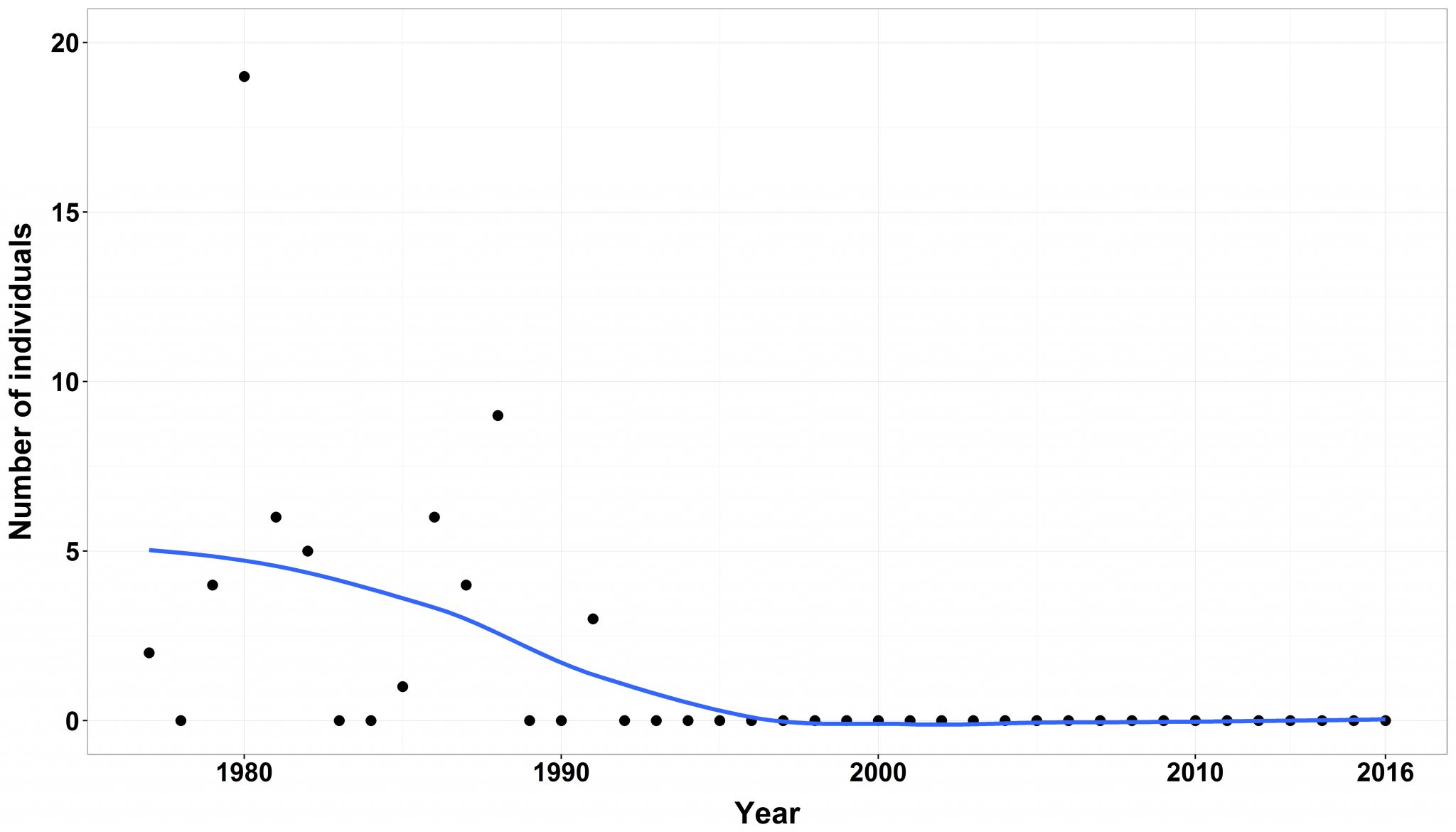 Figure 1.  Number of American Black Ducks recorded during the Desoto Christmas Bird Count (CBC) 1977-2016.  The graphic shows the species was regularly observed in the late 1970s and 1980s, but has not been recorded since 1991.  Points represent actual counts and trend line created using locally weighted scatterplot smoothing (LOESS) in R Studio (2015).
Literature Cited
Baldassarre, G. 2014. Ducks, geese, and swans of North America. Johns Hopkins University Press, Baltimore, Maryland, USA.
Brogie, M.A. 2015. 2014 (26th) Report of the NOU Records Committee. NBR 83: 125-138.
Cortelyou, R.G. 1975. 1974 (Seventeenth) Fall Occurrence Report. NBR 43: 24-39.
Grzybowski, J.A. 1993. Southern Great Plains Region. American Birds 47: 1122-1124.
Hyland, J.M. 1968. Black Duck. NBR 36: 81.
Lavretsky, P., T. Janzen, and K.G. McCracken. 2019. Identifying hybrids & the genomics of hybridization: Mallards & American black ducks of Eastern North America. Ecology and Evolution 9: 3470-3490. https://doi.org/10.1002/ece3.4981Citations: 10.
RStudio, Inc. 2015. RStudio: integrated development for R. RStudio, Inc., Boston, Massachusetts. http://www.rstudio.com/, accessed 1 December 2016.
Rosche, R.C. 1982. Birds of northwestern Nebraska and southwestern South Dakota, an annotated checklist. Cottonwood Press, Crawford, Nebraska, USA.
Swenk, M.H. Notes before 1925. Bird notes from A.M. Brooking of Hastings, C.A. Black of Kearney, and B.J. Olson of Kearney, based chiefly on their collections, up to January 1, 1925. Typed manuscript in the Nebraska Ornithologists' Union Archives, University of Nebraska State Museum, Lincoln, Nebraska, USA.
Tout, W. 1947. Lincoln County birds. Published by the author, North Platte, Nebraska, USA.
U.S. Fish and Wildlife Service. 2019. Waterfowl population status, 2019. U.S. Department of the Interior, Washington, D.C. USA.
Recommended Citation
Silcock, W.R., and J.G. Jorgensen.  2021.  American Black Duck (Anas rubripes). In Birds of Nebraska — Online. www.BirdsofNebraska.org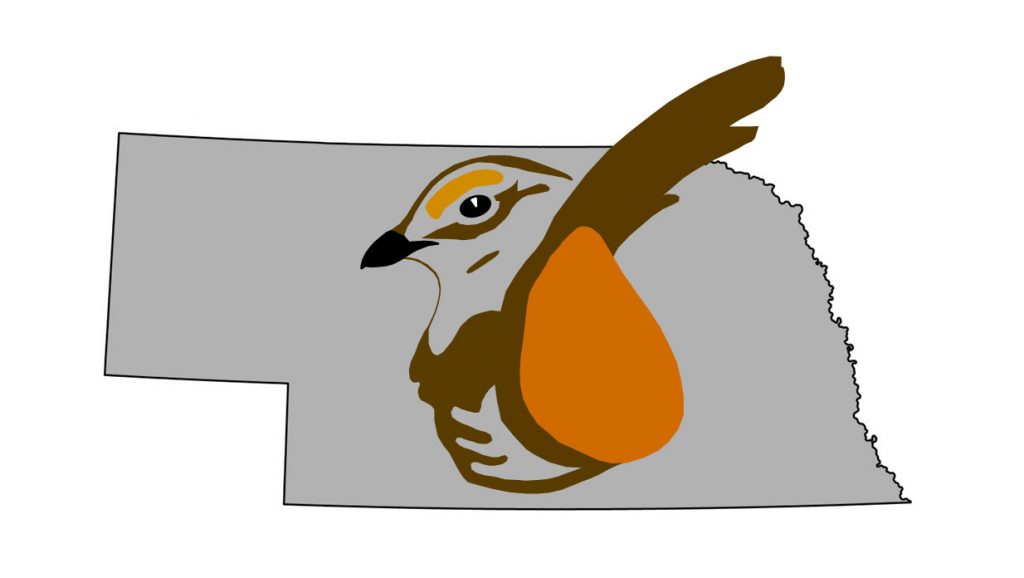 Birds of Nebraska – Online
Updated 1 Oct 2021