Spatula discors
Status:  Abundant regular spring and fall migrant statewide. Uncommon, locally common, regular breeder statewide. Rare casual winter visitor.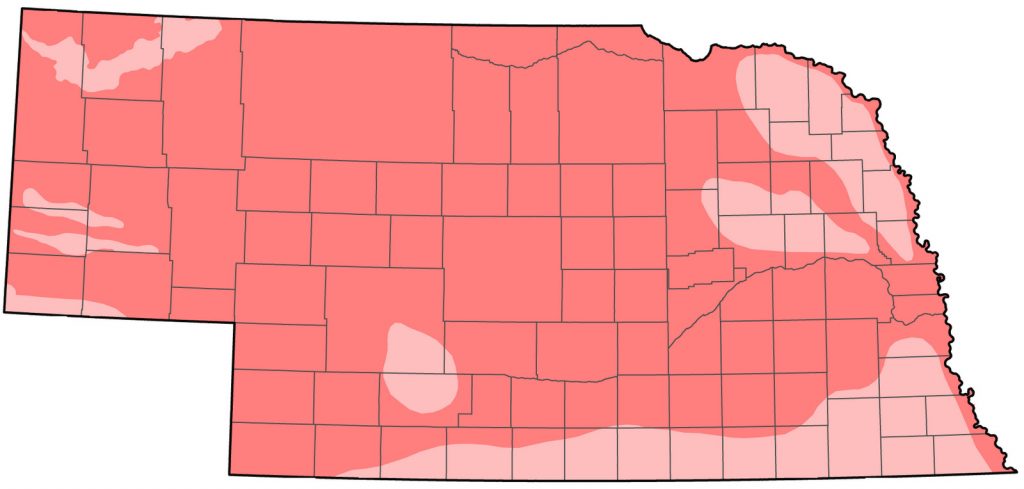 Documentation: Specimen: UNSM ZM12441, 14 Apr 1909 Cass Co.
Taxonomy: No subspecies are recognized (Gill et al 2022).
This species was recently moved to genus Spatula from Anas, based on genetic studies (Chesser et al 2017).
Hybrids with Cinnamon Teal are regularly reported; most readily identifiable are males that resemble Cinnamon Teal but with the white facial crescent of Blue-winged Teal. For Nebraska records see Blue-winged Teal x Cinnamon Teal (hybrid). In addition, there are Nebraska records for Blue-winged Teal hybrids with Northern Shoveler and Green-winged Teal; see Blue-winged Teal x Northern Shoveler (hybrid) and Blue-winged Teal x Green-winged Teal (hybrid).
Spring:  Feb 28, 28, Mar 1 <<<>>> summer
There are earlier reports of one photographed 18 Feb 2017 Lincoln, Lancaster Co, 24 Feb 2006 Lancaster Co, and 25-26 Feb 2023 male Douglas Co. Typically, arrival is in mid- to late Mar, with peak numbers occurring around mid-Apr, but large concentrations continue into early May.
High counts: 2500 at Harvard WPA, Clay Co 30 Apr 2005, 1825 at Crescent Lake NWR, Garden Co 23 Apr 1996, 1500 at Tamora WPA, Seward Co 13 Apr 2019, and 1250 at North Lake Basin, Seward Co 13 Apr 2019.
Summer:  Nesting has been documented for nearly all regions of the state.  Summer concentrations are highest in the Sandhills; elsewhere pairs are scattered throughout the state in appropriate breeding habitat. This is the most common nesting duck species in the Rainwater Basin of Nebraska, comprising 50.4% (n = 206) of all duck nests reported 1958-62 by Evans and Wolfe (1967), 67% (n = 190) of all duck nests reported 1984-85 by Schroeder (1986), and 74.1% (n = 723) of all duck nests reported 1981-1986 by Harding (1986).
Breeding Phenology:
Copulation: 17 Apr
Eggs: 22 Apr-25 Jul (Mollhoff 2022)
Dependent fledglings: 5 May- 3 Sep
Fall:  summer <<<>>> Nov 14, 15, 15
Detectable fall movement is evident by mid-Aug, with numbers peaking early to mid-Sep. Most Blue-winged Teal concentrate in fall on the northern Great Plains prior to moving to the Atlantic Coast and then to wintering grounds in Central America and northern South America (Baldassarre 2014). Small groups may remain in the state until late Oct.
There are 13 later dates in Nov and Dec, latest the 12 on the North Platte CBC 15 Dec 2012, two in Cedar Co 15 Dec 2016, a pair in Lincoln, Lancaster Co 18 Dec 2000, one on the Omaha CBC 18 Dec 2010, one on the Ames CBC 18 Dec 2012, and one in Scotts Bluff Co within three days of 20 Dec. There are three reports for Jan (see Winter).
High counts: 14,500 in the eastern Rainwater Basin 2-3 Sep 2000, 6000 at Funk WPA, Phelps Co 19 Sep 1999, 6000 at Lake McConaughy, Keith Co 30 Aug 2022, and 4200 in the eastern Rainwater Basin 22 Aug 1999.
Winter:  The only documented records of presumed over-wintering birds (Jan-15 Feb) are of an immature male seen at Lake Ogallala 16 Dec 1999 and 29 Jan 2000 (Brown and Brown 2001), an adult in an open spring-fed pond in Lincoln Co 12 Jan 1991, and one in Madison Co 13-15 Jan 2016.
Images
Abbreviations
CBC: Christmas Bird Count
NWR: National Wildlife Refuge
UNSM: University of Nebraska State Museum
WPA: Waterfowl Production Area (Federal)
Acknowledgement
Photograph (top) of a Blue-winged Teal at Fontenelle Forest, Sarpy Co, 17 Apr 2015 by Phil Swanson.
Literature Cited
Baldassarre, G. 2014. Ducks, geese, and swans of North America. Johns Hopkins University Press, Baltimore, Maryland, USA.
Brown, C.R., and M.B. Brown. 2001. Birds of the Cedar Point Biological Station. Occasional Papers of the Cedar Point Biological Station, No. 1.
Chesser, R.T., K.J. Burns, C. Cicero, J.L. Dunn, A.W. Kratter, I.J. Lovette, P.C. Rasmussen, J. V. Remsen, Jr., J.D. Rising, D.F. Stotz, and K. Winker. 2017. Fifty-eighth supplement to the American Ornithological Society's Check-list of North American Birds. Auk 134: 751-773.
Evans, R.D., and C.W. Wolfe. 1967. Waterfowl production in the Rainwater Basin area of Nebraska. Journal  of Wildlife Management 33:788-794.
Gill, F., D. Donsker, and P. Rasmussen (Eds). 2022. IOC World Bird List (v 12.2). Doi 10.14344/IOC.ML.12.2.  http://www.worldbirdnames.org/.
Harding, R.G. 1986. Waterfowl nesting preferences and productivity in the Rainwater Basin, Nebraska.   Master's thesis, Kearney State College, Kearney, Nebraska.
Mollhoff, W.J. 2022. Nest records of Nebraska birds. Nebraska Ornithologists' Union Occasional Paper Number 9.
Schroeder, L. 1986. Duck nesting studies, South Dakota and Nebraska 1984–1985. Unpublished interoffice memorandum, April 15, In Rainwater Basin of Nebraska migratory bird habitat Acquisition plans. Prepared jointly by the U.S. Fish and Wildlife Service (Grand Island, Nebraska, USA) and Nebraska Game and Parks Commission (Lincoln, Nebraska, USA).
Recommended Citation
Silcock, W.R., and J.G. Jorgensen.  2023.  Blue-winged Teal (Spatula discors). In Birds of Nebraska — Online. www.BirdsofNebraska.org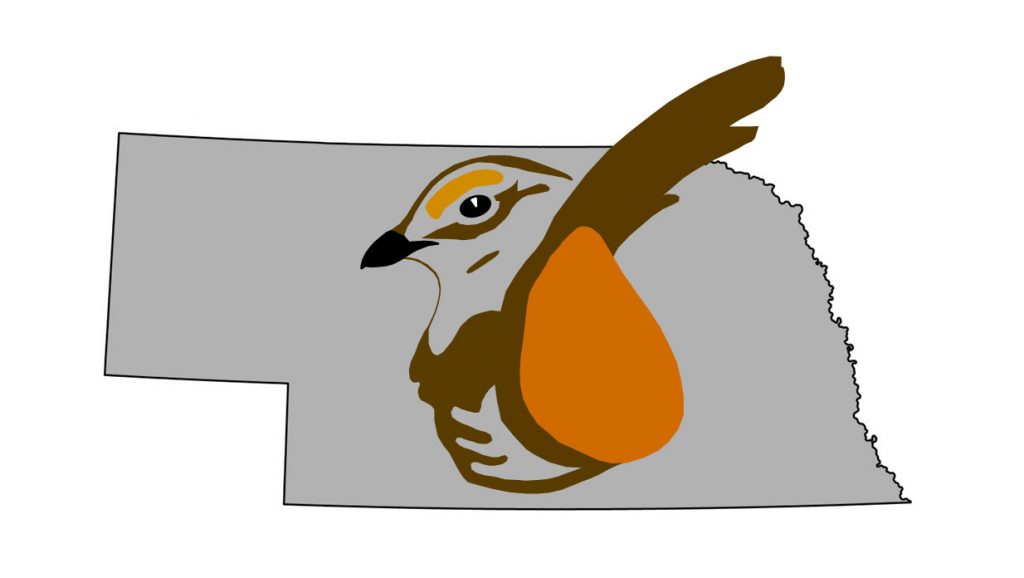 Birds of Nebraska – Online
Updated 8 Apr 2023