Bucephala clangula americana
Status: Common regular spring migrant statewide. Rare casual summer visitor statewide. Common, locally abundant, regular fall migrant statewide. Uncommon, locally common, regular winter visitor statewide.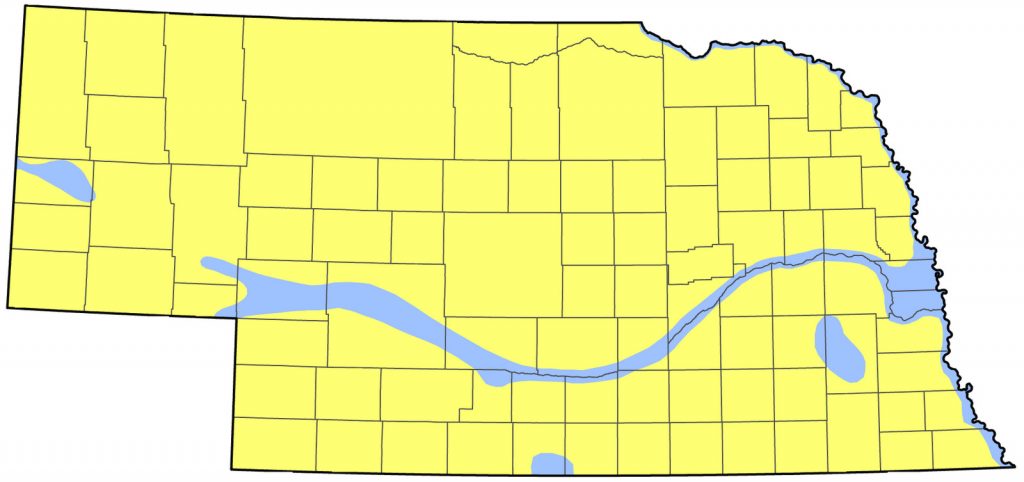 Documentation: Specimen: UNSM ZM7681, 10 Apr 1926 Lincoln, Lancaster Co.
Taxonomy: Two subspecies are recognized, European Common Goldeneye B. c. clangula, and American Common Goldeneye, B. c. americana (Gill et al 2022).
Nebraska records of hybrids of this species with Bufflehead, Barrow's Goldeneye, and Hooded Merganser are discussed at Bufflehead x Common Goldeneye, Common Goldeneye x Barrow's Goldeneye, and Common Goldeneye x Hooded Merganser.
Complicating separation of this species and Barrow's Goldeneye are hybrids between these two species (Martin and Di Labio 1994) and female Common Goldeneyes with entirely yellow bills (Sibley 2017). A likely hybrid was In Lincoln Co 21 Mar 2010; female Common Goldeneyes with all yellow bills are regularly observed in the state.
Spring: winter <<<>>> May 16, 17, 18
Despite the presence of wintering birds, spring movement is evident beginning mid-Feb and early Mar, often occurring with frozen water bodies opening up as a result of warming temperatures. Numbers peak in mid-Mar and decline quickly into mid-Apr. See Summer for records after 18 May.
High counts: (where wintering did not occur): 1875 at Branched Oak Lake 17 Feb 2015, 1200 on Lewis and Clark Lake, Knox Co 29 Mar 2018, and 1100 at Gavin's Point Dam, Cedar Co 6 Mar 2021.
Summer: Reports for summer (13 May-20 Oct) are 21-24 May 2023 Ashby, Grant Co, 24 May-26 Jun 2019 Lake Ogallala, Keith Co, 26 May 1990 Howard-Hall Cos, 27 May 1981 Garden Co, 29 May 1993 Keith Co, 30 May 2015 Scotts Bluff Co, three on 2 Jun 2022 Rock Creek SRA, Dundy Co, 3 Jun Keith Co (Rosche 1994), 6 Jun 2023 Gavin's Point Dam Area, Cedar Co, 7 Jun 1981 McPherson Co, 8 Jun 2008 female Sarpy Co, 9 Jun 2011 Dodge Co, 14 Jun 1980 Scotts Bluff Co, 16 Jun-3 Aug 2020 Lewis and Clark Lake, Cedar and Knox Cos, 30 Jun 1967 Garden Co, late Jun 1999 male near Antioch, Sheridan Co, 6 Jul 1993 Scotts Bluff Co, 8 Jul 2015 first-year male at County Line WPA, York and Fillmore Cos, 16 Jul 2015 a single at Boyer Chute NWR, Washington Co, 6 Sep 1993 Sarpy Co, a specimen HMM 2394 collected in Sep 1916 (no date) in Clay Co (Brooking, Notes), 28 on 11 Sep 1997 Crescent Lake NWR, Garden Co, 23 Sep 1986 Pierce Co, 2 Oct 1965 Adams Co, 11 Oct 1991 Lincoln Co, and 13 Oct 1988 Scotts Bluff Co.
Fall: Oct 24, 25, 26 <<<>>> winter
Migration begins in late Oct, although there are earlier dates 21-28 Oct 2018 Lancaster Co. Peak numbers occur in mid-Dec.
High counts: 3800 at Sutherland Reservoir, Lincoln Co 17 Dec 1998, 3000 there 18 Dec 1997, 2000 at Lewis and Clark Lake, Cedar Co 10 Dec 2022, and 1703 at Lake McConaughy 21 Dec 2003.
Winter: This species overwinters wherever open water occurs, notably in the North and South Platte and Missouri River Valleys, usually in small numbers. While 300-500 normally winter on Lake Ogallala (Rosche 1994), a flock numbering around 2000 was there during winter 1999-2000; peak count in 2020-2021 was 560 on 1 Feb. There were 420 at Lake Minatare, Scotts Bluff Co 29 Jan 2006, 630 at Sutherland Reservoir 3 Jan 2011, and 380 there 1 Jan 2010. There were around 1700 in the Gavin's Point Dam area, Cedar and Knox Cos 16-22 Jan 2019, 1500 there 10 Feb 2020, and 1800 on 1 Jan 2021.
Images
Abbreviations
HMM: Hastings Municipal Museum
NWR: National Wildlife Refuge
SRA: State Recreation Area
UNSM: University of Nebraska State Museum
WPA: Waterfowl Production Area (Federal)
Literature Cited:
Brooking, A.M. Notes. Bird specimen records. Manuscript in NOU Archives.
Gill, F., D. Donsker, and P. Rasmussen (Eds). 2022. IOC World Bird List (v 12.2). Doi 10.14344/IOC.ML.12.2.  http://www.worldbirdnames.org/
Martin, P.R., and B.M. Di Labio. 1994. Identification of Common X Barrow's Goldeneye hybrids in the field. Birding 26:104-105.
Rosche, R.C. 1994. Birds of the Lake McConaughy area and the North Platte River valley, Nebraska. Published by the author, Chadron, NE.
Sibley, D. 2017. Distinguishing female Barrow's and Common Goldeneyes, accessed 1 Feb 2018.
Recommended Citation
Silcock, W.R., and J.G. Jorgensen. 2023. Common Goldeneye (Bucephala clangula). In Birds of Nebraska — Online. www.BirdsofNebraska.org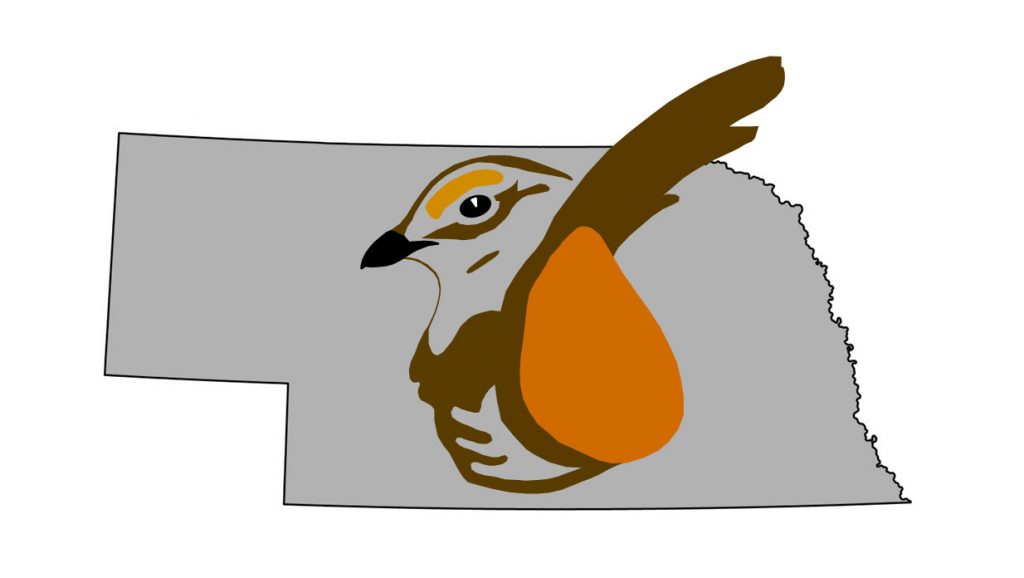 Birds of Nebraska – Online
Updated 3 Sep 2023