Aythya collaris
Status: Common, locally abundant, regular spring and fall migrant statewide. Accidental breeder Cherry Co. Rare casual summer visitor statewide. Uncommon regular winter visitor west, south, and east, rare casual north.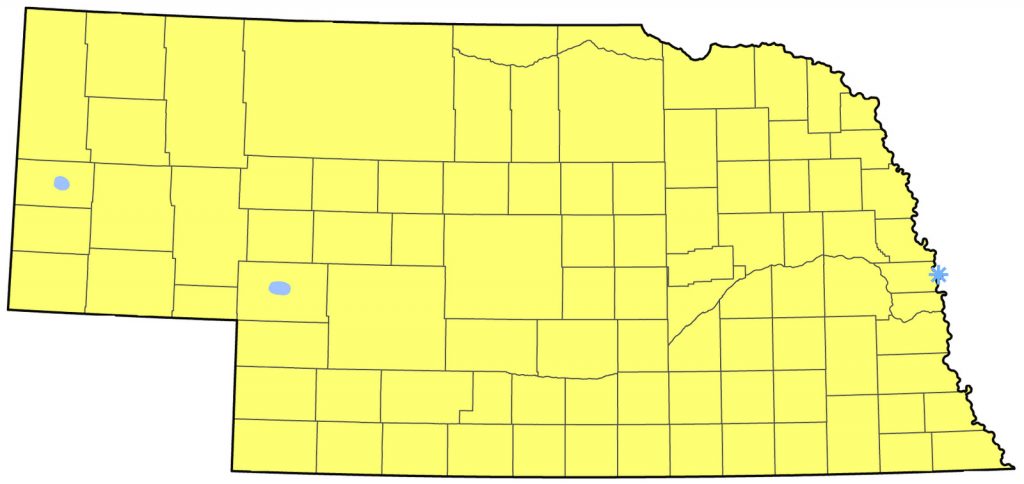 Documentation: Specimen: UNSM ZM12460, 2 Apr 1909 Cass Co.
Taxonomy: No subspecies are recognized (https://avibase.ca/0783A7EA).
Ring-necked Duck hybridizes with other species; for Nebraska records see Redhead x Ring-necked Duck, Ring-necked Duck x Greater Scaup, Ring-necked Duck x Lesser Scaup, and Ring-necked x Tufted Duck.
Changes Since 2000: Increasing occurrence of mostly males in the Rainwater Basin late Jun-early Aug is suggestive of an establishing molt migration location. This species is rare anywhere in Nebraska in summer.
Spring: winter <<<>>> Jun 13, 13, 15
The earliest arrivals are coincident with the spring thaw; probable migrants were 12 on 30 Jan 2010 at Kearney, 12 at Boystown Lake, Douglas Co 1 Feb 2012, and 11 on 30 Jan 2016 at Lake Wanahoo, Saunders Co. Migration peaks during late Mar and early Apr, but small numbers occur into May. See Summer for later Jun reports.
High counts: 2200 in the eastern Rainwater Basin 31 Mar 2001, 1450 at Crescent Lake NWR, Garden Co on 5 Apr 1994, 1000 at Valentine NWR, Cherry Co 29 Apr 2019, and 872 at North Platte NWR, Scotts Bluff Co on 14 Apr 1995.
Summer: This species was described as a "regular historic nester" prior to 1920 in the Sandhills (Ducey 1988); this statement appears to be based on Oberholser and McAtee (1920), who "observed" Ring-necked Ducks at several Sandhills lakes in Jun 1915, a wetter year than usual, but provided no proof of breeding (Mollhoff 2022). Reports from Crescent Lake NWR 1972 and 1978 described young "raised to flight stage" but without further details (Mollhoff 2022). Today, a breeding occurrence in Nebraska would be considered extra-limital; the nearest regular breeding is currently in far northeast South Dakota (Tallman et al 2002). Thus, surprisingly, the first modern Nebraska breeding record was of a hen and brood photographed on a wetland at NNF McKelvie, Cherry Co 16 Sep 2019 (Greg Wright, personal communication; photo). A possible brood was at the same location 27-30 Jul 2020, but photos were equivocal.
Reports from locations like the Sandhills and Rainwater Basin that might be expected to host nesting birds are few but almost annual since 2000, especially in years with good water conditions. Many if not most may be one year old non-breeders resulting from late broods the prior year and delayed sexual maturity, and from mid-Jul molt migrants can occur. Males and unsuccessful females depart breeding locations by 15 Jul to molt in small groups in remote parts of the breeding range (Baldassarre 2014). Most late Jul Rainwater Basin reports are of males, suggestive that a few from the relatively close Minnesota breeding range might molt in Nebraska.
There are about 31 reports in the Sandhills 3 Jun-6 Sep usually of 1-2 birds, but five were at Crescent Lake NWR, Garden Co 21 Aug 2017 and nine in the Maverick Lake area there 5 Aug 2021.
A surprising influx in 2005 saw a total of six males at four Rainwater Basin locations, including three at Deep Well WMA, Hamilton Co, 11 Jun-17 Jul and, in 2015, four were reported at various locations in the Rainwater Basin 27 Jun-7 Jul. A large influx occurred in 2019, with five reports of 18 birds in the Rainwater Basin. Additional Rainwater Basin records 17 Jun-Jul are of an immature in Butler Co 16 Jun-28 Aug 2020, two birds in Clay Co 26 Jun 2013, Seward Co 3 Jul 2013, Seward Co 9 Jul 2011, two in Butler Co 14 Jul 2018, and a male at Moger WPA, Clay Co, 22 Jul 2007.
The Lake McConaughy area, Keith Co may occasionally host molting males; one was at Lake Ogallala 13 Jun 2002, another on 7-12 Jun 2003, and 1-4 from 22 Jun-29 Jul 2006. The only Panhandle records 10 Jun-6 Sep are of one that may have summered at North Platte NWR in 1994, when two were noted 14 Jun and 10 Sep; one was reported in Scotts Bluff Co 10 Jun 1991, two were at Scottsbluff SL 16 Jun 2019, and a surprising 40 were at Oliver Reservoir, Kimball Co 12 Aug 2009.
There are few summer reports away from apparent suitable breeding habitat, at least some of these presumably non-breeding immatures or molting males: 9 Jun 2011 near Fremont, Dodge Co, a single at a Butler Co wetland 10 Jun, 10 Jul, and 25 Jul 2020, 11 Jun 2011 in Omaha, 19 Jun 2022 molting male Stanton Co, 20 Jun 2003 Lancaster Co, 24 Jun 2020 Dodge Co, 28 Jun 2019 Brown Co, a male was at Cunningham Lake, Douglas Co 16 Jul 2021, a male was at Salerno Marsh/N 264th St, Douglas Co 19 Jul-21 Aug 2021, 24 Jul 2020 Dodge Co, a male 2-14 Aug 2021 Jackson SL, Dakota Co  4 Aug 1990 Polk Co, 4 Aug 2006 Alma SL, 12 Aug-19 Sep 2020 Madison Co, 14 Aug 2013 Douglas Co, 15 Aug 1980 Harlan Co, 17 Aug 1981 Douglas-Sarpy Cos, 22 Aug 2018 two Chase Co, and 3 Sep 2017 Sarpy Co. Single males summered at in Scotts Bluff Co at Scottsbluff WTP 23 Jun-23 Jul 2022 and Gering WTP 13 Jun-20 Jul 2022.
Fall: Sep 7, 7, 9 <<<>>> winter
Fall movement becomes evident during Sep, peaking generally in Oct. Good numbers often remain on larger lakes and reservoirs well into Dec; 137 were at Lake Wanahoo, Saunders Co 26 Dec 2015, 103-120 were in Scotts Bluff Co 30 Dec 2005- 2 Jan 2006, and 310 were at Lake Ogallala 30-31 Dec 2016.
High counts: 2100 at Crescent Lake NWR 27 Sep 1995, 1228 at North Platte NWR on 10 Sep 1994, and 779 at Lake McConaughy 31 Oct.
Winter: Overwintering occurs at locations favored by other diving ducks, such as Scottsbluff SL, Scotts Bluff Co, Lake McConaughy and Lake Ogallala, Harlan Co Reservoir, and, more recently, Carter Lake, Omaha. Best mid-winter count (mid-late Jan) at Scottsbluff SL is 29 on 23 Jan 2015; at Lake Ogallala 94 wintered 1999-2000 with 300 there 20 Jan, 15 wintered at Harlan Co Reservoir 1999-2000, and up to 35 at Carter Lake 2013-2014 and again in 2014-2015. Up to eight wintered at Boystown Lake, Douglas Co 2008-2009, up to four overwintered at Ta-Ha-Zouka Park, Madison Co 2019-2020, 2-4 were there 23-28 Jan 2023, and 110 were at North Platte, Lincoln Co 2 Jan 2014.
Fewest winter reports are mid-late Jan; there are two such reports in the north: 14 Jan 2019 (21) Fort Niobrara NWR, Cherry Co, and 29 Jan 2021 (6) Antelope Co. In the east, northerly reports in Madison Co in 2021 were of up to 15 at Skyview Lake throughout Jan, and up to 10 at nearby Ta-Ha-Zouka Park 13-15 Jan. Good numbers for location and date were up to 120 in the Gavin's Point Dam area, Cedar and Knox Cos 3-17 Jan 2022.
Images
Abbreviations
NNF: Nebraska National Forest
NWR: National Wildlife Refuge
SL: Sewage Lagoons
UNSM: University of Nebraska State Museum
WMA: Waterfowl Management Area (State)
WPA: Waterfowl Production Area (Federal)
Literature Cited
Baldassarre, G. 2014. Ducks, geese, and swans of North America. Johns Hopkins University Press, Baltimore, Maryland, USA.
Jorgensen, J.G. 2012. Birds of the Rainwater Basin, Nebraska. Nebraska Game and Parks Commission, Lincoln, Nebraska, USA.
Mollhoff, W.J. 2022. Nest records of Nebraska birds. Nebraska Ornithologists' Union Occasional Paper Number 9.
Oberholser, H.C., and W.L. McAtee. 1920. Waterfowl and their food plants in the sandhill region of Nebraska. US Dept Agriculture Bull. 794: 1-94.
Rosche, R.C. 1994. Birds of the Lake McConaughy area and the North Platte River valley, Nebraska. Published by the author, Chadron, Nebraska, USA.
Tallman, D.A., Swanson, D.L., and J.S. Palmer. 2002. Birds of South Dakota. Midstates/Quality Quick Print, Aberdeen, South Dakota, USA.
Recommended Citation
Silcock, W.R., and J.G. Jorgensen. 2023. Ring-necked Duck (Aythya collaris). In Birds of Nebraska — Online. www.BirdsofNebraska.org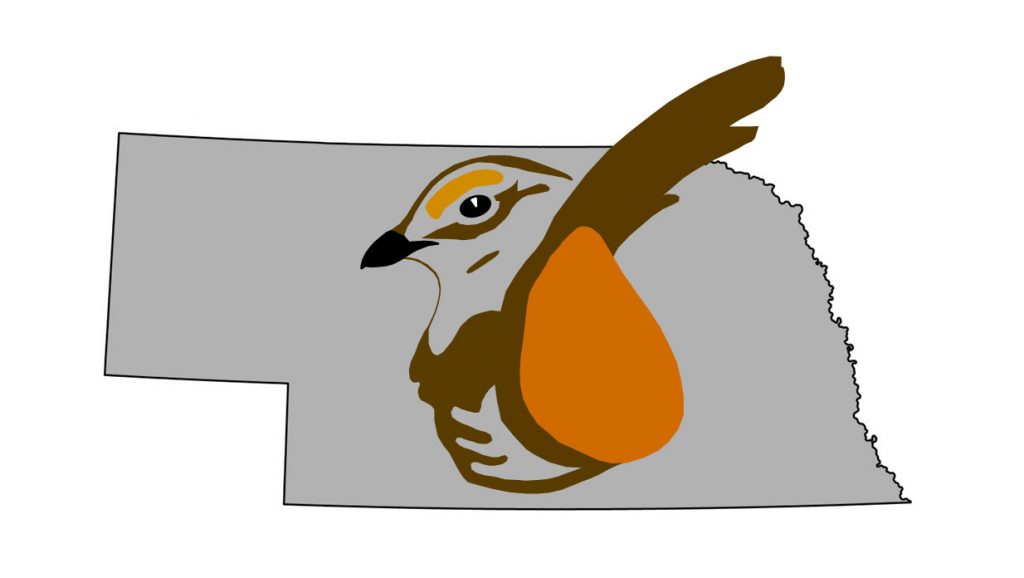 Birds of Nebraska – Online
Updated 6 Mar 2023