Larus argentatus
Status: Common, locally abundant, regular spring migrant statewide. Uncommon regular summer visitor Lake McConaughy, rare casual elsewhere. Common regular fall migrant statewide. Locally common regular winter visitor statewide.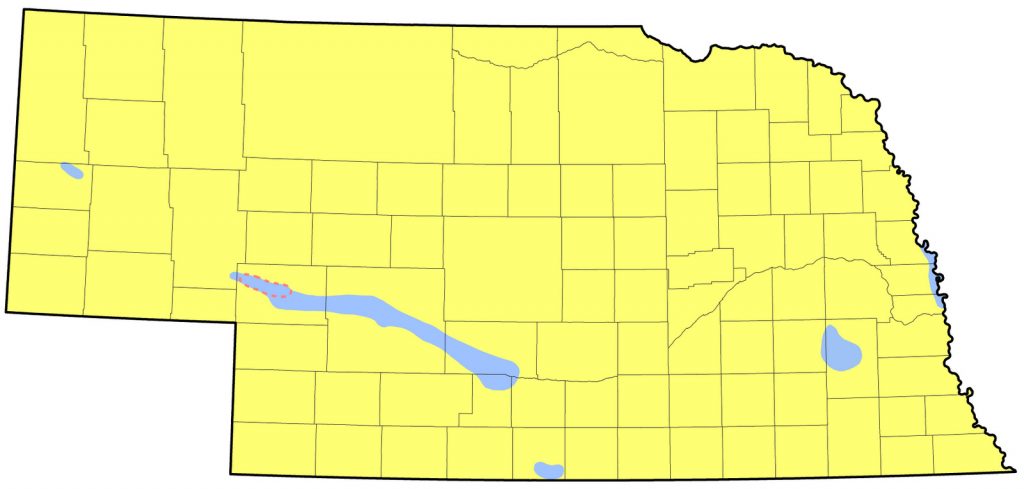 Documentation: Specimen: UNK mount, 8 Oct 1917 Kearney, Buffalo Co.
Taxonomy: Traditionally, four subspecies had been recognized in the Herring Gull complex (Pyle 2008), but more recently these have been re-arranged by current authors (Olsen and Larsson 2004, Gill and Donsker 2017) into three full species based on Sangster et al (2005): European Herring Gull (Larus argentatus), with subspecies L. a. argenteus and L. a. argentatus, Vega Gull (L. vegae), and American Herring Gull (L. smithsonianus). Genetic studies have shown that American and European Herring Gulls are "quite distinct", and that more than one subspecies may be included within smithsonianus (Howell and Dunn 2007). Nevertheless, these changes have not as of 2017 been adopted by the American Ornithological Society.
Both Vega and European Herring Gulls have been reported in the contiguous United States on multiple occasions.  However, distinguishing either of these subspecies from American Herring Gulls is difficult (Howell and Dunn 2007).
See Glaucous-winged Gull account for discussion of hybrids between American Herring Gull and that species.
Spring: winter <<<>>> May 28, 30, 31
Numbers increase at wintering sites by early to mid-Feb and individuals appear at other sites in late Feb as water begins to open up, although the progression of migration is influenced by the severity of weather during late winter.    Most Herring Gulls move through the state during late Feb and early Mar, with declining numbers into the first half of Apr. Late dates above are away from Lake McConaughy. From late Apr, virtually all reports are of sub-adults; last dates for adults are 30 Apr 2000 at Harvard WPA, Phelps Co, 10 May 2000 at Sutherland Reservoir, Lincoln Co, 13 May 2004 at Lake McConaughy, Keith Co, and 19 May 2014 at Lake McConaughy. A third-cycle immature was at Lakes Babcock and North, Platte Co 28 May 2013.
Later dates (ages unspecified) are 5 Jun in northwest Nebraska (Rosche 1982), 8 Jun 1957 Gage Co, and 14 Jun in the Keith Co area (Rosche 1994).
High counts: 2000 at Branched Oak Lake, Lancaster Co 1 Mar 2009, 1302 at Lake McConaughy 9 Mar 2001, 1000 there 21 Feb 1994, and 1000 estimated flying over Omaha, Douglas Co 23 Mar 2006.
Summer: Herring Gulls are generally rare in summer; there are only about 34 records of immatures statewide 1 Jun-12 Sep, most of these at Lake McConaughy. There are only three records of adults Jun-Jul: one at Lake McConaughy 19 Jun 2004, two there 21 Jun 2005, and one there 30 Jul 2006. An age class breakdown for Jun-Jul 2001 at Lake McConaughy was one fresh juvenile (on 28 Jul), four first alternate, two second alternate, and two third alternate (Stephen J. Dinsmore, pers. comm.); the total of eight immatures was an unusually large number for the time of year.
Fall: Sep 13, 13, 13 <<<>>> winter
Migrants, usually immatures, are detectable in mid-Sep, but numbers are low until Oct, with numbers building in Nov and large concentrations not seen until Dec, when peak counts occur. Juveniles may depart breeding colonies as early as mid-Jul (Nisbet et al 2020); a fresh juvenile was at Lake McConaughy 28 Jul 2001.
Earliest dates for adults, probably failed breeders, are of three on 27 Aug 2006 at Lake McConaughy, one in Lancaster Co 29 Aug 2014, one at Lake McConaughy 5 Sep 2018, one there 6 Sep 2014, and another there 7-9 Sep 2019.
High counts: 540 at Sutherland Reservoir, Lincoln Co 30 Dec 2007, 446 at Harlan Co Reservoir, Harlan Co 15 Dec 1996, and 416 at Lake McConaughy 23 Dec 1994.
Winter: Numbers of Herring Gulls wintering in Nebraska are highly variable and are dictated by the severity of the winter.  Numbers continue building into Dec and can continue to increase into mid-winter given favorable conditions; highest counts for the year sometimes occur mid-Jan through early Feb.
High counts: 1500 at Lake McConaughy 15 Jan 1998, and 1100 there 6 Feb 1999.
Abbreviations
UNK: University of Nebraska- Kearney
WPA: Waterfowl Production Area (Federal)
Acknowledgement
Photograph (top) of a Herring Gull at Branched Oak Lake, Lancaster Co 19 Mar 2015 by Phil Swanson.
Literature Cited
Gill, F., and D. Donsker (Eds). 2017. IOC World Bird List (v 7.3), accessed 30 January 2018.
Howell, S.N.G., and J. Dunn. 2007. Gulls of the Americas. Houghton Mifflin Harcourt, New York, New York, USA.
Nisbet, I.C.T., D.V. Weseloh, C.E. Hebert, M.L. Mallory, A.F. Poole, J.C. Ellis, P. Pyle, and M.A. Patten. 2020. Herring Gull (Larus argentatus), version 1.0. In Birds of the World (S. M. Billerman, Editor). Cornell Lab of Ornithology, Ithaca, NY, USA. https://doi.org/10.2173/bow.hergul.01.
Olsen, K.M., and H. Larsson. 2004. Gulls of Europe, Asia and North America. Princeton University Press, Princeton, New Jersey, USA.
Pyle, P. 2008. Identification Guide to North American Birds. Part II, Anatidae to Alcidae. Slate Creek Press, Bolinas, California, USA.
Rosche, R.C. 1982. Birds of northwestern Nebraska and southwestern South Dakota, an annotated checklist. Cottonwood Press, Crawford, Nebraska, USA.
Rosche, R.C. 1994. Birds of the Lake McConaughy area and the North Platte River valley, Nebraska.  Published by the author, Chadron, Nebraska, USA.
Sangster, G., J.M. Collinson, A.J. Helbig, A.G. Knox, and D.T. Parkin. 2005. Taxonomic recommendations for British birds: third report. Ibis: 147: 821–826.
Recommended Citation:
Silcock, W.R., and J.G. Jorgensen. 2020. American Herring Gull (Larus argentatus). In Birds of Nebraska — Online. www.BirdsofNebraska.org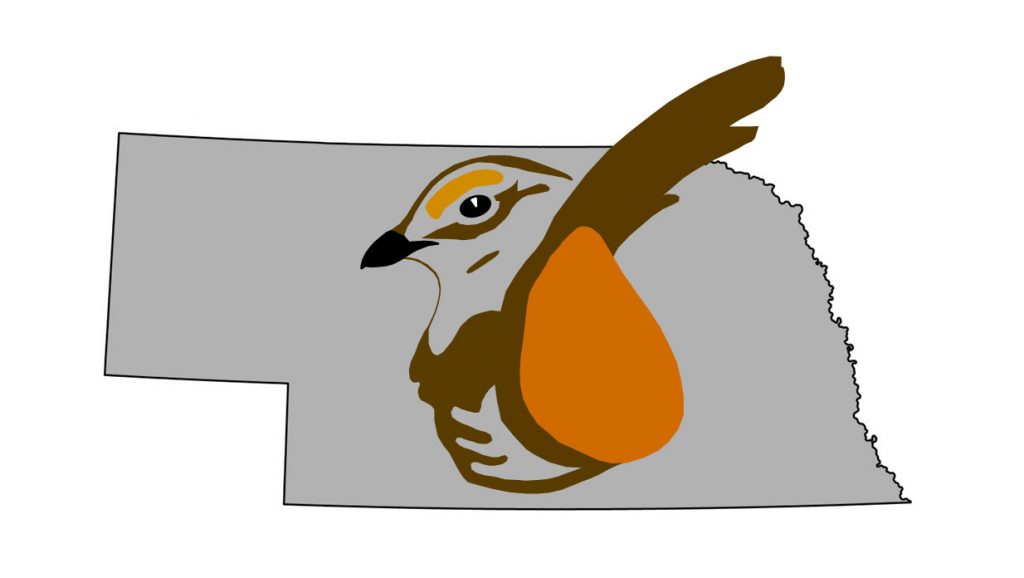 Birds of Nebraska – Online
Updated 28 Mar 2020